For sales inquiries,
please contact us at:


sales@thecus.com
For marketing inquiries, please contact us at:


marketing@thecus.com
2009-11-26
Notably Awesome Security
11/26/2009- In the fast moving world of business, users need NAS servers that can not only efficiently manage large amounts of data, but also protect and secure this data. After all, losing confidential data can have a devastating impact on any organization. To that end, Thecus®, the leader in network attached storage, has developed a broad range of advanced business class NAS products, offering business users storage solutions with superior performance, flexibility, and rock-solid data protection.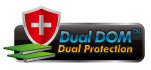 In 2009, Thecus® introduced its latest 5-Bay NAS, the N5500. The N5500 is the world's first NAS equipped with a unique Dual DOM™ technology. DOM (Disk On Module) is the flash drive where the system's firmware and configurations are installed. The unique Dual DOM design puts 2 DOMs in one NAS device. As the system is booting, in case DOM 1 fails, the system will automatically recover DOM1 using DOM2 to ensure that the NAS can continue to function without affecting daily business operations.
*Dual DOM™ is currently supported on below Thecus® NAS:
N5500, N7700SAS, N8800SAS, N7700PRO, N8800PRO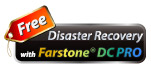 Backup is an essential task for business IT administrators. When files are regularly backed up, it can minimize losses in the event of lost or damaged files. Farstone® DriveClone is one of the most well received backup utilities on the market. To provide a worry-free computing environment for business users, Thecus® teams up with Farstone® Technology to provide a highly effective backup solution without additional charge (on 4-bay models and up). Business users are able to create exact copies of their data or the entire system and store them onto Thecus® NAS products. When files are lost or damaged, DriveClone ensures complete recovery of the entire hard drive by restoring the "snapshots" taken of the hard drive when it was working, giving businesses bulletproof security.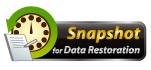 Business users need to be able to access their files instantly and efficiently when needed. However, files are often damaged or lost when being moved or copied from one location to another. It would be great if the damaged or lost files could be restored quickly, and for that, Thecus® has the right solution. The Thecus® Snapshot function is a simple and convenient way to backup your data. By taking snapshots of your data on a regular basis, lost or damaged files can be quickly restored by using the snapshots taken previously. Users can even plan their backup tasks using the scheduled snapshot feature, setting the times they want to take snapshots and let the system automatically take snapshots for them; it doesn't get any easier than this.
Thecus® business class NAS devices are also packed with other advanced data protection features, like AES 256 bit RAID encryption. This feature allows administrators to build RAID array with encryption using a USB flash drive. The USB will then be the key to access the NAS. Without it, no one will be able to access your data or modify your settings. Administrators can also set ACL control to grant access rights to various users and groups. Redundant power supplies can be found on Thecus® 8 Bay NAS products to ensure continuous operation in the case of a power supply failure.
Looking forward, Thecus® will continue to develop more innovative business class NAS devices to assist businesses of all scales to manage and protect their precious data. Thecus® redefines NAS and its meaning in the world of business.
---
About Thecus
®
Thecus® Technology Corp. specializes in IP Storage Server solutions, including Network Attached Storage (
NAS
) , DAS, External Storage and Wireless Media
NAS
(Bank ) products. The company was established in 2004 with the mission to make technology as transparent and easy-to-use as possible, and to make products that are not only the best on the market, but are accessible to experts and novices alike. With a best-in-class R&D team highly experienced in storage hardware and Linux software and with a keen customer focus, Thecus® stays close to the market to develop high-quality products to fulfill the storage Server needs of today's world.
For sales inquiries, please contact us via email:
sales@thecus.com
For marketing inquiries, please contact us via email:
marketing@thecus.com