For sales inquiries,
please contact us at:


sales@thecus.com
For marketing inquiries, please contact us at:


marketing@thecus.com
2009-11-25
"A mini-server that is easy to bring anywhere"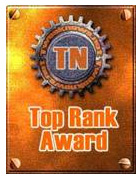 11/25/2009 – If you've ever wanted a full file server that fits right into the palm of your hand, the Thecus® N0204 miniNAS offers superb functionality in a device that extremely compact. When TweakNews got a hold of one, they could hardly believe that something so small could have all the functionality of a full-size NAS. They were so impressed with it that they decided to give it their highly coveted Top Rank Award!
The N0204 is tiny but mighty: "When Thecus claimed to have packed a full feature set into this tiny unit, they really meant it! The N0204 does just as much as its bigger brothers while keeping the size ultra tiny – it literally fits in the palm of my hand. The download manager allows you to download files straight to the NAS without the need to leave a computer on. HTTP, FTP, and bittorrent files are supported. Furthermore, a scheduler is available so downloads can be performed during off-peak hours for more efficient use of bandwidth."
TweakNews was blown away by how feature-packed and easy to set up the N0204 really is: "The old saying is that good things come in small packages, and that's definitely the case with the Thecus N0204 Mini NAS. It's no larger than a portable hard drive but provides a lot more than just storage. I don't know of any other NAS box that is this portable and manages to pack an FTP server, print server, media server, and so many other features into a tiny unit that can fit in your jacket pocket. Setting it up is easy, too. The one-click install option is good for someone who may be a first time NAS user, while the manual install gives advanced users the chance to customize settings right from the bat. The web interface is stable and easy to navigate, and will be familiar to anyone who has used other models of Thecus NAS units."
The conclusion: "If you travel between work sites frequently and need both storage and network services available to you, then it really doesn't get any more portable than this. Performance is quite admirable for a device of this size and very little noise is noticeable during use. The $150 price tag is very reasonable given the feature set, so just add a couple of 7200 RPM drives and you'll have yourself a mini-server that is easy to bring anywhere."
For the full review, check out:
http://www.tweaknews.net/reviews/thecus_n0204_mini_nas_review/
For more information on the N0204, check out:
http://www.thecus.com/products_over.php?cid=11&pid=198
---
About Thecus
®
Thecus® Technology Corp. specializes in IP Storage Server solutions, including Network Attached Storage (
NAS
) , DAS, External Storage and Wireless Media
NAS
(Bank ) products. The company was established in 2004 with the mission to make technology as transparent and easy-to-use as possible, and to make products that are not only the best on the market, but are accessible to experts and novices alike. With a best-in-class R&D team highly experienced in storage hardware and Linux software and with a keen customer focus, Thecus® stays close to the market to develop high-quality products to fulfill the storage Server needs of today's world.
For sales inquiries, please contact us via email:
sales@thecus.com
For marketing inquiries, please contact us via email:
marketing@thecus.com