For sales inquiries,
please contact us at:


sales@thecus.com
For marketing inquiries, please contact us at:


marketing@thecus.com
2009-11-23
"Thecus' new SAS-equipped appliance is a beast…the fastest desktop NAS appliance currently available"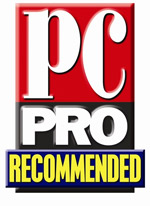 11/23/2009 – The recently released Thecus® N7700SAS is quickly grabbing the interest of many hardware enthusiasts around the globe. Packing an Intel® Core 2 Duo processor, this seven-bay NAS is ideal for those who need to store a tremendous amount of data and have access to it in a hurry. PC PRO had the chance to test the N7700SAS and see if it lived up to the hype. In the end, they gave the N7700SAS their Recommended Award!
The N7700SAS is equipped with some of the latest tech: "This latest N7700 sees some major improvements as along with a new SAS controller, it has a Core 2 Duo processor and 4GB of memory. Thecus today also announced the N7700PRO, which supports 10Gb Ethernet by adding a 10Gb Ethernet adapter to the PCI-Express slot."
Uptime is the key, and the N7700SAS delivers: "The appliance has Thecus' dual-DOM, which is implemented as two 128MB IDE micro disk modules stacked on top of each other. If one fails the other takes over, thus improving fault tolerance…backup options are good. FarStone's DriveClone Pro secures selected files and folders at scheduled intervals. It has a snapshot service and drive and partition cloning. You can also copy data from one appliance to another using Nysnc."

The N7700SAS cranks out some amazing performance to boot: "Thecus delivered superb results in our performance tests with drag-and-drop copies to and from a dual 2.13GHz Xeon L5506 Dell PowerEdge R410 returning read and write speeds of 99MB/sec and 92MB/sec. FTP speeds were even faster with FileZilla: 103MB/sec and 95MB/sec with the same test file. IP SAN performance was excellent with Iometer reporting raw read speeds of 107MB/sec for 50GB."
The verdict: "Thecus' new SAS-equipped appliance is a beast. It could do with more business-related features but it performs well across a range of tasks, making it the fastest desktop NAS appliance currently available."
For the full review, check out:
http://www.pcpro.co.uk/reviews/storage-appliances/352522/thecus-n7700-sas
For more information on the N7700SAS, check out:
http://www.thecus.com/products_over.php?cid=11&pid=170
---
About Thecus
®
Thecus® Technology Corp. specializes in IP Storage Server solutions, including Network Attached Storage (
NAS
) , DAS, External Storage and Wireless Media
NAS
(Bank ) products. The company was established in 2004 with the mission to make technology as transparent and easy-to-use as possible, and to make products that are not only the best on the market, but are accessible to experts and novices alike. With a best-in-class R&D team highly experienced in storage hardware and Linux software and with a keen customer focus, Thecus® stays close to the market to develop high-quality products to fulfill the storage Server needs of today's world.
For sales inquiries, please contact us via email:
sales@thecus.com
For marketing inquiries, please contact us via email:
marketing@thecus.com