For sales inquiries,
please contact us at:


sales@thecus.com
For marketing inquiries, please contact us at:


marketing@thecus.com
2006-05-03
" The first eSATA interface external enclosure in the world "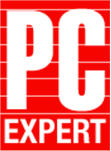 05/04/2006 – With the capacity for two hard disks and an eSATA interface, the Thecus N2050 is perfect the users who want to get at their data as quickly as possible. Hardware authority PC Expert recently tested the Thecus N2050, and was extremely impressed with its design and performance.
Here's what PC Expert had to say about Thecus and its N2050: "Thecus is always offering innovative storage products and good performance. The N2050 is the first eSATA interface external enclosure in the world which can impliment two 3.5" SATA HDDs. The interface adapts SATA 1 or SATA 2, and can also communicate using one USB cable or an optional eSATA card. The speed in theory can reach up to 1.5Gb/s with SATA1, 3Gb/s with SATA2, or 50~60Mb/s with USB. The N2050 is sold without hard disks in order to leave the choice of capacity to the user. When N2050 contains the two storage units, a switch makes it possible to choose between the different RAID modes, including RAID-1 (security) or RAID-0 (performance). Compatible with Windows, Mac OS, and Linux, N2050 doesn't need a pilot to be operational. Finally, only a single fan quietly and effectively cools the unit down."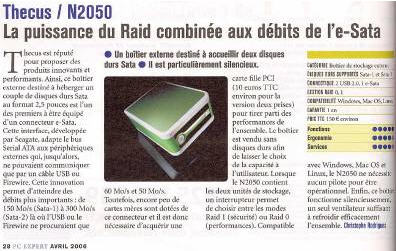 For the full review, check out the April 2006 edition of PC Expert Magazine.
For more information on the Thecus YES Box N2100, check out:
http://www.thecus.com/products_over.php?cid=1&pid=1
For more information on Thecus, go to:
http://www.thecus.com/
---
About Thecus
Thecus® Technology Corp. specializes in IP Storage Server solutions, including Network Attached Storage (NAS) and Wireless Media Bank products. The company was established in 2003 with the mission to make technology as transparent and easy-to-use as possible, and to make products that are not only the best on the market, but are accessible to experts and novices alike. With a best-in-class R&D team highly experienced in storage hardware and software and with a keen customer focus, Thecus® stays close to the market to develop high-quality products to fulfill the storage needs of today's world.
For more information, please visit the Thecus® website at:
http://www.thecus.com/
For sales and other inquiries, please contact us via email:
sales@thecus.com