For sales inquiries,
please contact us at:


sales@thecus.com
For marketing inquiries, please contact us at:


marketing@thecus.com
2014-07-10
T-OnTheGo™ for Android and iOS now with New Features

07/10/2014- Since its initial release, T-OnTheGo has been about empowering users with the wealth of a NAS's resources, wherever they are, such as file sharing, data protection, and information accessibility. As a result, along with the already comprehensive list of tools offered by previous versions of the Thecus mobile app, this latest update comes equipped with three new innovations geared to perfect the Thecus experience.
Share Link
Sasha and Michael had a great weekend away in Mexico celebrating Día de Muertos and Sasha got some really great shots of the celebrants dancing in colorful costumes and skull-shaped masks. Before publishing them on Facebook and their travel blog, Sasha wants to get Michael's feedback on whether he likes the way her Lightroom editing has come out and which she should share.
Already having her files automatically backed up to her Thecus N2560, Sasha doesn't want to worry about uploading them to a cloud service (especially given their size and associated cost and tardy transfer speeds). Instead, she chooses to use the T-OnTheGo Share Link tool which creates an encrypted HTML link to a stored file (or files). Once Michael receives this, all he has to do is select it and the festive photos will be downloaded directly to his phone or tablet from their Thecus NAS.

Photo Sync and Instant Upload
Toni heads a remodeling startup in Vancouver and takes countless photos with her phone before, during, and after projects. Even while travelling, she likes to keep records of great designs that could help inspire her next client's office or home. But all this snapping eventually adds up and she has found herself with a full phone more than once before installing the Thecus N5550 in her office. Once the system was up and running, all she had to do was enable Photo Sync on T-OnTheGo and all her photos were automatically backed up onto her work NAS. One problem that still lingered, however, was getting new images as quickly as possible back to her staff in the office when she needed feedback or support while onsite. But now thanks to Instant Upload, any brand new photo or video can be sent instantly to your Thecus device.
No matter how far away from her office she is, Toni is always connected to her team and the endless storage of her Thecus NAS.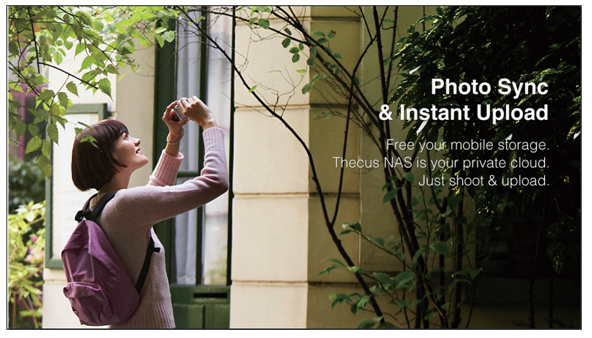 Automatic Setup
Carol prefers to access the digital world through her phone. She has a laptop at the back of her wardrobe, but would prefer to leave that old thing where it is and stick to using her iPhone. So when it came time to set up T-OnTheGo, the new Auto Scan feature and Thecus ID Registration Tool made all the difference: there was no lugging out the old PC and no googling what a 'WebDAV' was. All Carol had to do was register for her free Thecus DDNS account, put those details into her NAS, and use T-OnTheGo to connect automatically to her personal collection of golden age movies. Available anywhere and able to stream to the big screen thanks to Apple TV and DLNA, Carol will never be far from her catalogue of everything from The Jazz Singer to Ben-Hur.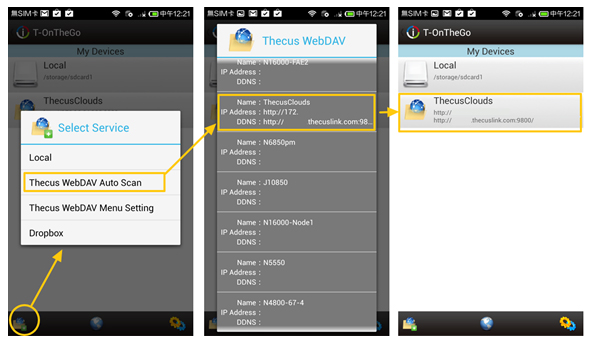 Your Complete Cloud Solution
With Share Link, Photo Sync, Instant Upload, Automatic Setup, and an extensive list of other empowering tools, T-OnTheGo puts the endless versatility of Thecus NAS right at your fingertips – wherever you are.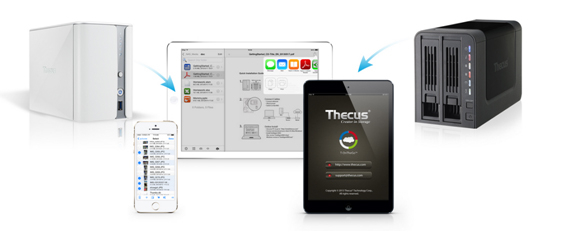 Please note that to enjoy the latest features offered by T-OnTheGo, users need to upgrade their NAS firmware to one of the following versions:
ThecusOS 5 (64bit) 2.05.02 and above.

ThecusOS 6.1-12 and OS6 Build 340 and above.

ThecusOS 6 Build 767 and above.
To download the latest Thecus firmware, please go to the Download Center:
http://www.thecus.com/sp_download.php
To learn more about T-OnTheGo for Android, please go to:
https://play.google.com/store/apps/details?id=com.xtremeapp.xplorer.thecus&hl=en
To learn more about T-OnTheGo for iDevices, please go to:
https://itunes.apple.com/tw/app/t-onthego/id687615894?mt=8
---
About Thecus®
Established in 2004, Thecus Technology Corp provides market leading network attached storage and network video recorder solutions, committed to revolutionize how everyone from home user to enterprise level business centrally stores, manages and accesses their digital data both onsite and cloud-based. Thecus strives to deliver continuous innovation through cutting edge technology and design to provide data storage with the most customer-friendly platform, rapid performance and robust security. In May 2016, Thecus was formally acquired by Ennoconn Corporation and thus became part of the Foxconn IPC Technology group. Partnered together this diverse group of companies work in tandem to provide a total IoT (Internet of Things) solution. Now with an unparalleled portfolio to work with, Thecus is collaborating to bring unprecedented change to the network storage industry.