For sales inquiries,
please contact us at:


sales@thecus.com
For marketing inquiries, please contact us at:


marketing@thecus.com
2009-11-19
Networked And Silent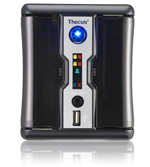 11/19/2009- Today, NAS devices are common to both home and small business environments. They have been deployed to perform various takes and duties, including storing, sharing and protecting data across local area networks. NAS devices can also be used as a media center to stream music, movies and other multimedia content. Over the years, Thecus®, the leader in network attached storage solutions, has been integrating Green technology into its entry level NAS products, offering Home and SMB users environmental friendly, cost effective and easy-to-use storage solutions.


In home environments, NAS devices are often used as a replacement for desktop PCs to download files from the Internet. The N0204 miniNAS from Thecus®, the world's smallest NAS, offers an abundance of features and great energy saving capabilities. The Thecus® N0204 has a built in Download Manager which allows users to schedule their HTTP, FTP, BT or eMule downloads without the need to turn on their computer. With the N0204, users don't have to worry about the high cost of electricity because the N0204 consumes only 11W of power during operation. Compared to an average desktop PC that consumes approximately 110W of electricity, the N0204 only uses 10% of that power. Thecus® understands that Home and SMB users need a NAS device to not only can perform critical tasks, but in the same time be able to work quietly. To that end, the Thecus® N2200 and N0204 are specially designed to operate silently. Users will find it hard to even notice they are there, making them the ideal NAS devices currently on the market for both home and small office environments.


The convenient Smart Utility software from Thecus® is especially designed for the N0204 and N2200. This software allows users to plug in and start using the NAS within seconds. With a single click of a mouse, the system will complete the entire setup process, including RAID building, folder creation and firmware uploading. Once the setup process has been completed, the Smart Utility will also give you direct link access to the Web-User interface, allowing you to start using the NAS immediately. The N0204 and N2200 are both equipped with Thecus®' latest user interface featuring AJAX technology. The new AJAX user interface is an interactive and dynamic window between the Thecus® NAS and its users. With the Thecus® Smart Utility and Thecus® AJAX user interface, the N2200 and N0204 are the friendliest Home/SMB NAS devices on the market today.

By connecting the N0204 and N2200 to your local area network, users within the same network can easily and efficiently share and store files between computers. The N0204 and N2200 can also be used as a powerful home media center. Both N0204 and N2200 have a built-in media server that supports the DLNA/uPnP protocol, offering a flexible and convenient digital multimedia entertainment platform right in your home.
Simply connect the Thecus® N2200 or N0204 with any DLNA-certified media devices, like a PS3 or any other DMAs, and instantly play movies, music, and photos directly on your TV. Users can also download media contents directly from the Internet and play them on their TV without the need to turn on the computer, saving both time and money.
In the future, Thecus® will continue to integrate advanced technology into its Home and SMB NAS products to exceed users' expectations. Experience the power and convenience of networked and silent storage devices from Thecus®.
---
About Thecus
®
Thecus® Technology Corp. specializes in IP Storage Server solutions, including Network Attached Storage (
NAS
) , DAS, External Storage and Wireless Media
NAS
(Bank ) products. The company was established in 2004 with the mission to make technology as transparent and easy-to-use as possible, and to make products that are not only the best on the market, but are accessible to experts and novices alike. With a best-in-class R&D team highly experienced in storage hardware and Linux software and with a keen customer focus, Thecus® stays close to the market to develop high-quality products to fulfill the storage Server needs of today's world.
For sales inquiries, please contact us via email:
sales@thecus.com
For marketing inquiries, please contact us via email:
marketing@thecus.com