For sales inquiries,
please contact us at:


sales@thecus.com
For marketing inquiries, please contact us at:


marketing@thecus.com
2009-11-03
Thin-Provisioning Allows Efficient Storage Management
11/03/2009 –iSCSI (Internet Small Computer System Interface) is an IP based protocol used to linking data storage devices. One of the major benefits about iSCSI is that it requires no dedicated cable like fiber channel and can be run over a simple Ethernet connection. iSCSI is a simple and cost effective way to manage servers and transfer data over long distances, which is why iSCSI is broadly used today by businesses of all scales. (Sourced from Wikipedia)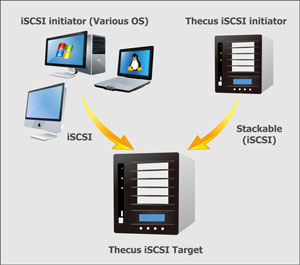 Thecus® SMB and Enterprise NAS series (4 Bay and above) currently offers support for both iSCSI initiator and target. Users can create an iSCSI target volume on the Thecus® NAS, and this volume can then be added to desktop or laptop computers using iSCSI initiator offered by various operating systems including Windows, Linux or Mac. Once connected, the volume will be shown on the computer as a local physical hard drive, which can be used to install applications or as extra storage space. Since the volume is created on an existing RAID array from the target Thecus® NAS, it is perfect for use as a backup destination with the protection of RAID. When utilizing Thecus® iSCSI initiator, users can stack up to 5 Thecus® NAS (iSCSI protocol) together using the "stackable" feature to expand storage capacity. These NASes can also be managed via a master system for added convenience and flexibility.
Business users now can benefit more from Thecus® NASes with their recently added iSCSI Thin-Provisioning support. This feature allows users to create up to 5 iSCSI virtual targets with different storage sizes from one physical iSCSI Thin-Provisioning volume; these virtual targets do not take up any physical hard drive space until they are actually needed. The administrator will be informed by email when 90% of the physical volume has been utilized to take the necessary action to expand or reallocate physical storage space. The new iSCSI Thin-Provisioning prevents administrators from over provisioning physical storage space before it is actually needed, thus greatly conserving hardware resources and reduces over all hard hardware expenditure for businesses.
Providing innovative and easy-to-use NAS devices is Thecus' promise to its customers. By utilizing Thecus® iSCSI, businesses of all sizes can now enjoy flexible, scalable and cost effective network storage solutions.
---
About Thecus
®
Thecus® Technology Corp. specializes in IP Storage Server solutions, including Network Attached Storage (
NAS
) , DAS, External Storage and Wireless Media
NAS
(Bank ) products. The company was established in 2004 with the mission to make technology as transparent and easy-to-use as possible, and to make products that are not only the best on the market, but are accessible to experts and novices alike. With a best-in-class R&D team highly experienced in storage hardware and Linux software and with a keen customer focus, Thecus® stays close to the market to develop high-quality products to fulfill the storage Server needs of today's world.
For sales inquiries, please contact us via email:
sales@thecus.com
For marketing inquiries, please contact us via email:
marketing@thecus.com