For sales inquiries,
please contact us at:


sales@thecus.com
For marketing inquiries, please contact us at:


marketing@thecus.com
2009-11-12
Nimble All-in-one Storage
11/12/2009 - Network attached storage devices have been widely deployed today to carry out various tasks and duties, and as NAS technology advances, users' demands for NAS have also increased dramatically. Over the years, Thecus®, the leader and pioneer in network attached storage solutions, has been responding to these demands and changes by developing flexible, expandable and feature-rich NAS products, offering users worldwide with nimble all-in-one storage solutions to suit their needs.

Thecus® believes that advanced technology should not be difficult to set up. For Home and SOHO users, Thecus® has come up with Smart Utility for its 2 Bay NAS series, the N0204miniNAS and N2200. This software allows users to start using the N0204 and N2200 within seconds. With a single click of a mouse, the system will complete the entire setup process, including RAID building, folder creation and firmware uploading. Once the setup process has been completed, Smart Utility will also give you direct link access to the Web-User interface, allowing you to start using the NAS immediately.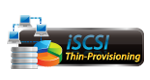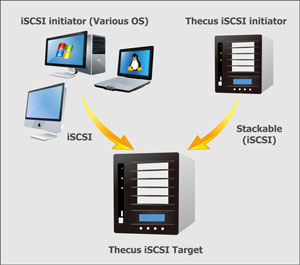 Thecus® SMB and Enterprise NAS series (4 Bay and above) currently offers support for both iSCSI initiator and target. Users can create an iSCSI target volume on the Thecus® NAS, and this volume can then be added to desktop or laptop computers by using the iSCSI initiator offered by various operating systems including Windows, Linux or Mac. Once connected, the volume will be shown on the computer as a local physical hard drive, which can then be used to install applications or as extra storage space. Since the volume is created on an existing RAID array from the target Thecus® NAS, it is perfect for use as a backup destination with the protection of RAID. When utilizing Thecus® iSCSI initiator, users can stack up to 5 Thecus® NAS (iSCSI protocol) together using the "stackable" feature to expand storage capacity. These NAS devices can also be managed via a master system for added convenience and flexibility.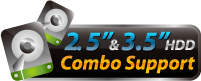 Over the years, Thecus® has introduced many world firsts. The Thecus® N5200 was the first NAS to support 5 hard drives. The Thecus® N0204miniNAS is also the world's smallest NAS and the Thecus® N5500 is world's first NAS with a unique Dual DOM design for flawless and continuous operation. This year, N0503comboNAS from Thecus® offers even greater flexibility with its special combo hard disk bay design. The N0503 can actually support up to five 2.5" hard disks or three 3.5" hard disks, giving users the options to choose wide range of RAID array to protect their precious data.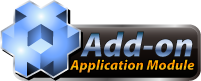 One of the main characteristics people love about Thecus® NAS products is definitely its unlimited expansion possibilities. With Thecus® NAS, users have the ability to add new features on their NAS devices by simply adding application modules. Until today, Thecus® has released many application modules including a Web server module, My SQL Module, IP CAM module and Bi-directional module. Best of all, these modules can be downloaded via Thecus® Download centre free of charge.
Thecus® will continue to integrate advanced technology into its NAS devices and stay at the forefront to keep up with users' demands and expectations. Thecus® Technology redefines the meaning of NAS and its capabilities.
---
About Thecus
®
Thecus® Technology Corp. specializes in IP Storage Server solutions, including Network Attached Storage (
NAS
) , DAS, External Storage and Wireless Media
NAS
(Bank ) products. The company was established in 2004 with the mission to make technology as transparent and easy-to-use as possible, and to make products that are not only the best on the market, but are accessible to experts and novices alike. With a best-in-class R&D team highly experienced in storage hardware and Linux software and with a keen customer focus, Thecus® stays close to the market to develop high-quality products to fulfill the storage Server needs of today's world.
For sales inquiries, please contact us via email:
sales@thecus.com
For marketing inquiries, please contact us via email:
marketing@thecus.com