For sales inquiries,
please contact us at:


sales@thecus.com
For marketing inquiries, please contact us at:


marketing@thecus.com
2009-10-30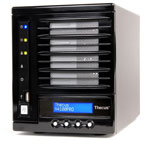 10/30/2009 - Since its release, Thecus® N4100PRO has received excellent rating together with countless awards from prestigious IT media around the world. N4100PRO is geared with high performance yet energy saving AMD Geode™ LX800 processor, offering abundant features with high level of data protection. It's compact and modern design also beloved by many people.
Now, Thecus® will like to say "thank you", by offering the latest AJAX user interface and iSCSI feature. AJAX framework is dynamic and interactive, offering brand new experience when using the Thecus® NAS. With AJAX implemented, N4100PRO instantly becomes a friendly, convenient NAS for everyone.
New added iSCSI support on N4100PRO allows easy storage expansion. User can simply creates iSCSI target volumes on N4100PRO by iSCSI initiators offered from various OS such as Windows, Linux or Mac. Once connected, the volume can be used as a local physical hard drive for application installation, or as extra storage spaces. Thecus® iSCSI feature allows users to "Stack" up to 5 Thecus® NAS (iSCSI protocol) if they need bigger storage capacity. These NAS can be managed conveniently from a master system, offers great flexibility. Apart from all the newly added benefits, iSCSI Thin-provisioning now also becomes available; allow users to create virtual iSCSI target volumes. These virtual volumes do not take up any physical storage space until they are needed, greatly increases hardware utilization and reduces over all hard hardware expenditure.
The latest add-on for N4100PRO can be acquired through firmware upgrade, as always, it is FREE and the new firmware can be downloaded via Thecus® Download Centre. With Thecus® N4100PRO, business and home users alike will always get more than they bargain for.
---
About Thecus
®
Thecus® Technology Corp. specializes in IP Storage Server solutions, including Network Attached Storage (
NAS
) , DAS, External Storage and Wireless Media
NAS
(Bank ) products. The company was established in 2004 with the mission to make technology as transparent and easy-to-use as possible, and to make products that are not only the best on the market, but are accessible to experts and novices alike. With a best-in-class R&D team highly experienced in storage hardware and Linux software and with a keen customer focus, Thecus® stays close to the market to develop high-quality products to fulfill the storage Server needs of today's world.
For sales inquiries, please contact us via email:
sales@thecus.com
For marketing inquiries, please contact us via email:
marketing@thecus.com