For sales inquiries,
please contact us at:


sales@thecus.com
For marketing inquiries, please contact us at:


marketing@thecus.com
2009-11-10
"Solid NAS offering decent performance and a plethora of useful features"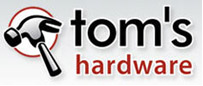 11/10/2009 – The N0204 miniNAS from Thecus® blends robust functionality and strong performance into a tiny unit that fits in the palm of your hand. Hardware authority Tom's Hardware was able to take the N0204 and take it for a spin and after putting it under careful scrutiny, found a lot to like, saying that the "N0204 is small, but powerful nonetheless."
Small but fully loaded: "Thecus's N0204 is a small NAS device, which you should be able to place almost anywhere. Its dimensions of 88x63x133mm are anything but intrusive, and should allow for the device to reside in public places like your living room, if you have a use for networked storage there. Thecus offers an iTunes server and a Media Server, but additionally includes a webcam server for surveillance and a print server module. Lastly, we also liked that the Thecus device's configuration interface loads faster than the MyBook's. Many Thecus products can be upgraded by downloading and installing additional feature modules, which you can obtain on the Thecus Web site for free. "
The N0204 delivers strong performance while keeping power consumption to a minimum: "We installed two Seagate Momentus 5400.6 hard drives (ST9500325ASG) into the Thecus N0204. These provide 500GB each, they come with 8MB cache, and a 5.400 RPM spindle speed. Using this configuration, the Thecus NAS device required as little as 6W idle power, which is an amazing result, as it is less than your DSL router might require."
The Tom's Hardware final verdict: "The N0204 is small, but powerful nonetheless. We found it particularly interesting to see that this device delivers the same performance as 3.5" NAS devices, but without requiring the same amount of power. In fact, this is the lowest-power NAS device we've yet seen, even in a data-protecting RAID 1 arrangement."
For the full review, check out:
http://www.tomshardware.com/reviews/mybook-n0204-nas,2417.html
For more information on the N0204, check out:
http://www.thecus.com/products_over.php?cid=11&pid=198
---
About Thecus
®
Thecus® Technology Corp. specializes in IP Storage Server solutions, including Network Attached Storage (
NAS
) , DAS, External Storage and Wireless Media
NAS
(Bank ) products. The company was established in 2004 with the mission to make technology as transparent and easy-to-use as possible, and to make products that are not only the best on the market, but are accessible to experts and novices alike. With a best-in-class R&D team highly experienced in storage hardware and Linux software and with a keen customer focus, Thecus® stays close to the market to develop high-quality products to fulfill the storage Server needs of today's world.
For sales inquiries, please contact us via email:
sales@thecus.com
For marketing inquiries, please contact us via email:
marketing@thecus.com