For sales inquiries,
please contact us at:


sales@thecus.com
For marketing inquiries, please contact us at:


marketing@thecus.com
2009-11-06
"A wireless capable 14TB NAS with plenty of features and functions"

11/06/2009 – When it comes to digital storage, SMBs have special needs. They need a storage server that not only offers tremendous performance, but is also flexible enough to serve a number of different functions. Of course, data security is of utmost performance, and the entire package should be easy to use and administrate. For this crowd, Thecus® presents the N7700, and in their October 2009 issue, HWM Malaysia awarded it with a final score of 8.5 out of 10 along with their prestigious Silver Award!
HWM editors begin with a short introduction to the N7700: "The N7700 doesn't take up much space but is quite tall, making it look almost like a server. The matte black casing is metal for better endurance while the seven 3.5" bays are closed-up by a lid that flips open easily. Even without drives, the NAS is quite heavy. Each of the seven 3.5" bays can support up to 2TB 3.5" SATA hard disk drives and are both lockable as well as hot-swappable. The locking mechanism requires a special key, making the NAS better secured from hard disk drive theft. Due to the large number of bays, it can support RAID 0, RAID 1, RAID 5, RAID 6, RAID 10 and JBOD for better speed and backup redundancy."
The N7700 is as easy to use as it is speedy: "Setup and configuration is fairly easy with everything accessible and form-based from the browser-based user interface. While performance depends on what hard disk drives you use and your own network performance, this NAS transferred 4.5GB worth of data within 7 minutes, which is good for a unit of this class."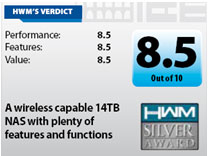 Loaded with features, the N7700 is infinitely flexible: "This model offers a full set of NAS services including a fileserver, a download server, an iTunes server, a media server, a photo server, a web server and an iSCSI target. The NAS offers full RAID capabilities including auto-rebuild, RAID expansion on the fly, RAID level migration and the ability to set one of the drives as a spare disk. You can also manage the NAS remotely as long as you have Internet access."
The conclusion: "The Thecus N7700 NAS is a very good NAS device for the organization that needs plenty of networked storage, flexibility and functions. While it only offers 14TB worth of built-in storage, the eSATA port can be used for external expansion up to another 2TB."
For the full review, check out the October 2009 issue of HWM Malaysia Magazine.
For more information on the N7700, check out:
http://www.thecus.com/products_over.php?cid=11&pid=82
---
About Thecus
®
Thecus® Technology Corp. specializes in IP Storage Server solutions, including Network Attached Storage (
NAS
) , DAS, External Storage and Wireless Media
NAS
(Bank ) products. The company was established in 2004 with the mission to make technology as transparent and easy-to-use as possible, and to make products that are not only the best on the market, but are accessible to experts and novices alike. With a best-in-class R&D team highly experienced in storage hardware and Linux software and with a keen customer focus, Thecus® stays close to the market to develop high-quality products to fulfill the storage Server needs of today's world.
For sales inquiries, please contact us via email:
sales@thecus.com
For marketing inquiries, please contact us via email:
marketing@thecus.com