For sales inquiries,
please contact us at:


sales@thecus.com
For marketing inquiries, please contact us at:


marketing@thecus.com
2009-11-05
Naturally Award-winning Storage
11/05/2009- Over the years, Thecus® has put a lot of effort in developing creative, innovative, as well as cost effective storage solutions to satisfy the needs of different users. Thecus® currently has an extensive product line ranging from the 2-bay N0204 miniNAS, to 5-bay all-in-one N5500, all the way to the 8-bay N8800 high performance enterprise level NAS, offering never before seen expandability, easy-of-use and flexibility.
As a leader in storage, Thecus® has accomplished numerous achievements; Thecus® was the storage provider to introduce world's first 5- Bay NAS: the N5200. The introduction of N5200 series was a huge success and the N5200PRO also achieved record breaking sales world wide. This year, Thecus® announced the world's first NAS to feature the unique Dual DOM design, as well as the N0503Combos NAS, the world's first NAS equipped with combo HDD trays that can support 3.5" or 2.5" HDDs. The N0204miniNAS from Thecus® is also the world's smallest NAS with great functionality and energy saving capabilities.
Thecus® NAS products are packed with advanced technology and friendly features offering first class data protection mechanisms, flexible usage as well as unbeatable performance to suit users' needs. For Enterprise users with high requirements for data security, Thecus® enterprise NAS products offer cutting edge data protection features like Multiple RAID, Snapshot, redundant power supply and AES 256bit RAID encryption. For small to medium businesses that require flexible storage features and future storage expandability, Thecus® has the ideal solution: the N5500. The Thecus® N5500 can be setup as a NAS, DAS or iSCSI, and can also be connected with up to five other N5500s for storage expansion. For family users and SOHO groups, the Thecus® N2200 operates silently with extremely low power consumption, and has a built-in media server, iTunes server and download manager, making it the ideal home NAS for today's digital world.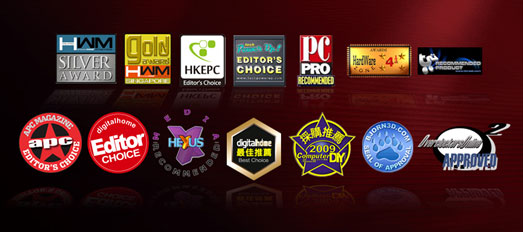 With so much to offer, it is really not hard to understand why Thecus® NAS have been well recognized and highly recommended by technical editors from around world. Over the years, Thecus® products have been reviewed by famous IT media publications like Hexus, Overclockers, Smallnetbuilder, Trusted Reviews, TweakPC, PC Magazine and HWM magazine. To date, Thecus® NAS products have received countless compliments as well as over 300 awards from IT publications world wide, and the number is still growing. This remarkable achievement is a reflection of market's positive perceptions toward Thecus® and a testament to the overall strength and value of Thecus® NAS products.
With breakthrough technology, useful features and recognition given by famous IT media from around the world, Thecus® NAS products are constantly setting new standards, redefining the meaning of NAS to the world.
---
About Thecus
®
Thecus® Technology Corp. specializes in IP Storage Server solutions, including Network Attached Storage (
NAS
) , DAS, External Storage and Wireless Media
NAS
(Bank ) products. The company was established in 2004 with the mission to make technology as transparent and easy-to-use as possible, and to make products that are not only the best on the market, but are accessible to experts and novices alike. With a best-in-class R&D team highly experienced in storage hardware and Linux software and with a keen customer focus, Thecus® stays close to the market to develop high-quality products to fulfill the storage Server needs of today's world.
For sales inquiries, please contact us via email:
sales@thecus.com
For marketing inquiries, please contact us via email:
marketing@thecus.com