For sales inquiries,
please contact us at:


sales@thecus.com
For marketing inquiries, please contact us at:


marketing@thecus.com
2009-10-28
Optimizing IT Resources with Thecus® and Virtual Technology
10/28/2009 – In today's advanced digital era, IT administrators are constantly looking for ways to efficiently utilize hardware resources. The traditional "one computer, one server application" model always costs too much as companies have to buy equipment and spend effort managing a number of machines. In cases like these, virtualization is the solution. With support for VMware virtualization and interconnecting Thecus® with VMware Server, IT administrators can install multiple operating systems and applications on a single physical computer and integrate it with Thecus® NAS storage for a unified pool of IT resources.
First, let's talk about how the traditional "one computer, one server application" model works. It is common to have one computer with one operating system and install applications to form a complete "server". As illustrated, each machine (or server) will need to connect to one physical storage device. It is not difficult to realize the amount of resources spent on acquiring the hardware and manage all of them using this model. Most important of all, this leaves most machines vastly underutilized.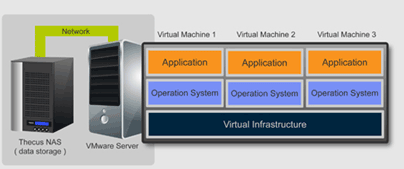 With VMware support, Thecus® NAS devices can act as a platform (a computer with a large storage pool) with one single physical PC server and execute multiple virtual machines on this platform, sharing the resources of that single platform (both computer and Thecus® NAS storage) across multiple environments. Here is an example to demonstrate the convenience and efficiency of utilizing Thecus® NAS with VMware. In an office where three servers are required, an FTP server, a web server, and an email server, the IT administrator can acquire one desktop (as VMware server) and connect it with Thecus® NAS (data storage). VMware virtualization simply allows the administrator to install three operating systems on this single platform and also install desired applications (FTP, web server, email server) on each operating system. Each operating system with an application is a fully functional "virtual machine" that can run its own server application just like a "real" computer. In this example, all three virtual machines share the storage on Thecus® NAS and the administrator can manage three servers using one platform. Once additional storage required, simply expand the Thecus® NAS by adding bigger hard drives or connecting with another Thecus® NAS unit.
With the popularity of VMware, virtualization technology is now widely used in the IT world. Thecus® is now a Technology Alliance Partner (TAP). By connecting one physical computer with Thecus® NAS and forming an efficient and expandable virtual infrastructure, IT administrators can dynamically utilize hardware and storage resources. Supporting VMware virtualization, Thecus® NAS is the ideal data storage solution for your infrastructure, offering superb performance, data protection, flexibility and expandability.
---
About Thecus
®
Thecus® Technology Corp. specializes in IP Storage Server solutions, including Network Attached Storage (
NAS
) , DAS, External Storage and Wireless Media
NAS
(Bank ) products. The company was established in 2004 with the mission to make technology as transparent and easy-to-use as possible, and to make products that are not only the best on the market, but are accessible to experts and novices alike. With a best-in-class R&D team highly experienced in storage hardware and Linux software and with a keen customer focus, Thecus® stays close to the market to develop high-quality products to fulfill the storage Server needs of today's world.
For sales inquiries, please contact us via email:
sales@thecus.com
For marketing inquiries, please contact us via email:
marketing@thecus.com