For sales inquiries,
please contact us at:


sales@thecus.com
For marketing inquiries, please contact us at:


marketing@thecus.com
2014-01-24
Thecus® featured in Hexus editorial

"Ever gone into the office only to have left your documents and spreadsheets at home? Ever wanted to listen to your PC's music library on your laptop? Or have you ever wanted to view your photos away from home on a tablet? These are all in scenarios in which centralized NAS storage could help."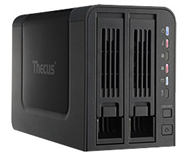 01/24/2014-The data-storage needs of consumers have been a constantly evolving phenomenon. From the advent of widespread internet access, to the proliferation of smart devices, new technological advancements continue to drive these changes; and as a result, there has grown to be a need to be able to "centralise all [of one's] data, secure it, and make it available across various devices and platforms." One of the best ways to accomplish this, according to Hexus, is with Network Attached Storage servers (or NAS).
NAS, as explained by Hexus, predominantly offer additional data-storage to a wide range of devices, "giving users the ability to centralise their data in one convenient location." They can therefore be thought of as external hard drives that, instead of being connected to a lone device, form part of your entire network.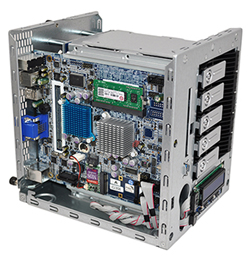 Given that most individuals are unfamiliar with NAS, and that they are more commonly found in business settings, they are often thought to be best left to IT experts. Fortunately, today's models are "increasingly user-friendly to the extent that consumers with little-to-no computing experience should be able to setup and install a home NAS with minimal fuss." This is ensured by ThecusOS™ 6, "an onboard operating system that promises simple configuration, accessible management utilities and a wealth of functionality that typically isn't available to home-made builds."
But making it easy to maintain continuity between computers and sharing files with friends, family or colleagues aren't the only uses of home and business NAS. Thecus has also developed apps for Apple and Android with comprehensive cloud management features. One such option is T-OnTheGo's PhotoSync:
"With T-OnTheGo, Thecus offers users the ability to take photos on their smartphone and have them synchronized automatically to the NAS; allowing the user to free-up valuable space on their mobile device."
But at their core, NAS are there to ensure that your data is safe. That's why all Thecus NAS include various data redundancy tools, such as RAID mirroring ("where the contents of one drive are replicated on the other to help provide security against drive failure"), and the ability to back up data to external devices, other NAS, and even cloud storage services.
From 16-bay enterprise rackmount to 2-bay home media solutions, Thecus has the NAS to meet your needs. Visit our homepage today to see the future of data storage!
To read the Hexus editorial 'What is a NAS?', please go to:
http://hexus.net/qab6t5
---
About Thecus®
Established in 2004, Thecus Technology Corp provides market leading network attached storage and network video recorder solutions, committed to revolutionize how everyone from home user to enterprise level business centrally stores, manages and accesses their digital data both onsite and cloud-based. Thecus strives to deliver continuous innovation through cutting edge technology and design to provide data storage with the most customer-friendly platform, rapid performance and robust security. In May 2016, Thecus was formally acquired by Ennoconn Corporation and thus became part of the Foxconn IPC Technology group. Partnered together this diverse group of companies work in tandem to provide a total IoT (Internet of Things) solution. Now with an unparalleled portfolio to work with, Thecus is collaborating to bring unprecedented change to the network storage industry.