For sales inquiries,
please contact us at:


sales@thecus.com
For marketing inquiries, please contact us at:


marketing@thecus.com
2006-04-20
"The end result is impressive."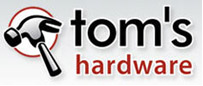 04/20/2005 – With the dawn of eSATA, users around the world are catching wind of high-performance external storage solutions that are not only fast, but have the ability to secure data. Hardware authority Tom's Hardware recently took a look at the Thecus N2050 eSATA external storage device, and after extensive testing, was very impressed.
Tom's Hardware begins by introducing the N2050: "Thecus' N2050 eSATA solution can host two 3.5" SATA hard drives, and since it is anenclosure, the purchase of the hard drives is required. The drives, cooled by a small 40-mm fan, are operated in RAID 1 (mirroring) or RAID 0 (striping) mode. The RAID mode is selected by using a small switch on the back of the device. Since eSATA is not available everywhere yet, Thecus bundles Silicon Image's 2515 controller for the PCI bus. Most systems should support it, but can also use the USB 2.0 interface if you are on the go and want to attach the N2050 to another computer."
Performance of the N2050 was top-notch: "As expected, the measured performance of the Thecus device is very good. We used two Western Digital WD1500 Raptor drives, so the test drives would not create a bottleneck. In a secure RAID 1, we measured data transfer rates of up to 85 MB/s for sequential operation. After setting up RAID 0, the maximum rate was 101 MB/s. Obviously, the PCI eSATA controller was the limiting factor. We thus recommend using the USB interface only when there is no eSATA port available, because its 32 MB/s bandwidth clearly slows down any modern 3.5" hard drive."
The conclusion: "Thecus' N2050 is one of the first external twin-drive RAID boxes that uses eSATA. As expected, its performance was far better than what USB 2.0 offers. The end result is impressive. The date transfer rate of 30 MB/s that USB 2.0 offers does indeed pale in comparison to 100 MB/s for eSATA, while the WD1500 drives are capable of delivering even better performance in RAID 0. It is also good to see that Thecus did not throw the USB 2.0 interface away, because it is a nice backup interface when you want to use the device with other computers via USB 2.0."
For the full review, check out:
http://www.tomshardware.com/2006/04/17/thecus_brings_sata_to_external_storage/index.html
For more information on the Thecus N2050, check out:
http://www.thecus.com/products_over.php?cid=1&pid=3
For more information on Thecus, go to:
http://www.thecus.com/
---
About Thecus

Thecus® Technology Corp. specializes in IP Storage Server solutions. The company was established in 2004 with the mission to make technology as transparent and easy-to-use as possible, and to make products that are not only the best on the market, but are accessible to experts and novices alike. With a best-in-class R&D team highly experienced in storage hardware and software and with a keen customer focus, Thecus® stays close to the market to develop high-quality products to fulfill the storage needs of today's world.
For more information, please visit the Thecus® website at:
http://www.thecus.com
For sales and other inquiries, please contact us via email:
sales@thecus.com