For sales inquiries,
please contact us at:


sales@thecus.com
For marketing inquiries, please contact us at:


marketing@thecus.com
2009-10-29
Thecus® NAS is the Next-generation Advanced Storage
10/29/2009 – Thecus® is no ordinary NAS – it is NAS redefined. Thecus® has always been leading the way by integrating and introducing future technologies to provide unrivalled performance, flexibility and convenience. With our latest innovation, Thecus® breaks the speed barrier with the first 10Gb Ethernet capable NAS. And with VMware support, Thecus® NAS is the ideal data storage solution for your infrastructure, offering superb performance, data protection, flexibility and expandability. SAS hard drive disk support also delivers a perfect solution for groups with high performance demands. Beyond traditional network attached storage, Thecus® NAS is Next-generation Advanced Storage.
10GbE Ready
Enterprises are constantly looking for flexible and scalable I/O solutions to meet the rigorous requirements of running mission-critical applications in virtualized and unified storage environments. Thecus® is the solution. Our latest 7 bay NAS, the N7700PRO, is equipped with a PCI-e slot. By adding a 10Gb Ethernet adaptor, users can experience lightning-fast file transfers. It is the first NAS that supports 10Gb Ethernet adaptors in the same segment. By introducing 10GbE, Thecus® NAS devices will have vastly increased network performance. This will not just affect average remote data transfer speeds, but many applications on VMware virtualization also have huge demands for network performance. With more virtual machines running different OSes and server applications on the VMware server, network traffic is dramatically increased with each VM competing for available I/O bandwidth. 10Gb performance with Thecus® NAS devices is perfect for this efficient and economic virtualized environment.
VMware Support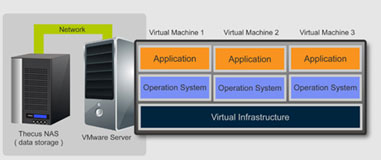 With VMware support, Thecus® NAS devices can act as a platform (a computer with a large storage pool) with one single physical PC server and execute multiple virtual machines on this platform, sharing the resources of that single platform (both computer and Thecus® NAS storage) across multiple environments. VMware virtualization simply allows the administrator to install multiple operating systems on this single platform and also install desired applications on each operating system. Each operating system with an application is a fully functional "virtual machine" that can run its own server application just like a "real" computer. All the virtual machines share the storage on Thecus® NAS and the administrator can manage three servers using one platform. Once additional storage is required, simply expand the Thecus® NAS by adding bigger hard drives or connecting another Thecus® NAS unit.
SAS Ready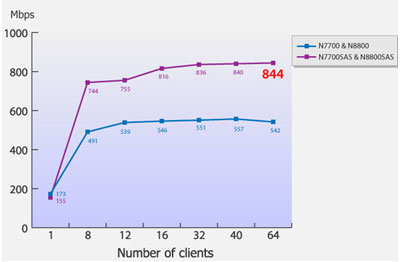 High performance SAS hard disks currently support transfer speeds of up to 6 Gbit/s and rotational speeds of 15,000 RPM. SAS hard disks are also very reliable, which is ideal for NAS servers. The Thecus® N7700SAS and N8800SAS are both equipped with special hardware/software designs that are compatible with both SATA and SAS drives. Equip the N7700SAS and N8800SAS with SAS HDDs, and even under multiple client access, users can enjoy quick system response and blazing fast file transfer speeds. Illustrated is a chart comparing the N7700/N8800 and N7700SAS/N8800SAS.
Technological leadership. Superior engineering. Innovation at every turn.
It's how Thecus® is redefining NAS - Next-generation Advanced Storage.
---
About Thecus
®
Thecus® Technology Corp. specializes in IP Storage Server solutions, including Network Attached Storage (
NAS
) , DAS, External Storage and Wireless Media
NAS
(Bank ) products. The company was established in 2004 with the mission to make technology as transparent and easy-to-use as possible, and to make products that are not only the best on the market, but are accessible to experts and novices alike. With a best-in-class R&D team highly experienced in storage hardware and Linux software and with a keen customer focus, Thecus® stays close to the market to develop high-quality products to fulfill the storage Server needs of today's world.
For sales inquiries, please contact us via email:
sales@thecus.com
For marketing inquiries, please contact us via email:
marketing@thecus.com