For sales inquiries,
please contact us at:


sales@thecus.com
For marketing inquiries, please contact us at:


marketing@thecus.com
2009-10-26
Editors impressed by small size, great features, low power consumption

10/26/2009 – The N0204 miniNAS from Thecus® continues to impress with great features packed into a miniature casing. Recently, Chip Magazine Turkey got their hands on the N0204 and decided to take it for a spin. Once they were done, they were quite surprised at what this pint-sized storage device could do!
Chip Magazine editors begin with a short introduction of the N0204: "The first miniNAS, the Thecus N0204, can be quickly understood as the name draws attention to its small size. Unlike other devices on the market that usually use 3.5" disks, the N0204 miniNAS has two 2.5" disk slots. You can the increase disk capacity by inserting a total of two 2.5" 500 GB drives for up to 1 TB of storage. You also get RAID 0 and 1 options, which can provide higher data security."
The N0204 sips power and stays cool. Hot swapping is also provided: "Compared to a standard NAS device, 25% less energy is consumed by the N0204. The base that came with the product contains a small fan that keeps your disks cool without compromising silence. SATA technology enables the hot-plug feature of the product, which allows disks to be changed should there be a malfunction."
Easy to use and infinitely flexible: "After connecting to the network using the CD that came with the product, it was incredibly easy to use with support for multimedia music, photos and video sharing for great convenience. Finally, a USB input is provided for external hard disks, web cameras, and printers, and it even supports wireless network adapters."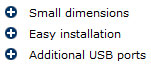 The conclusion: "Buy it from the website. After a Thecus firmware update which includes new features, you get a great complete storage server."
For the full review, check out:
http://www.chip.com.tr/urun/thecus-n0204-mininas_i2650.html
For more information on the N0204, check out:
http://www.thecus.com/products_over.php?cid=12&pid=137
---
About Thecus
®
Thecus® Technology Corp. specializes in IP Storage Server solutions, including Network Attached Storage (
NAS
) , DAS, External Storage and Wireless Media
NAS
(Bank ) products. The company was established in 2004 with the mission to make technology as transparent and easy-to-use as possible, and to make products that are not only the best on the market, but are accessible to experts and novices alike. With a best-in-class R&D team highly experienced in storage hardware and Linux software and with a keen customer focus, Thecus® stays close to the market to develop high-quality products to fulfill the storage Server needs of today's world.
For sales inquiries, please contact us via email:
sales@thecus.com
For marketing inquiries, please contact us via email:
marketing@thecus.com