For sales inquiries,
please contact us at:


sales@thecus.com
For marketing inquiries, please contact us at:


marketing@thecus.com
2009-10-23
2009/10/23 – Thecus® understands that after-sale service is critical when it comes to data storage. To provide 24/7 technical service for users worldwide, Official Thecus® Support Center is available at esupport.thecus.com. Should users have any technical issues, come in to Thecus® Support Center for complete knowledge base and prompt technical advice. The following services are provided online at the Support Center:
Submit a Ticket: reporting technical issues and Thecus® technical team will provide quick assistance.

Knowledgebase: informing users various types of technical issues and solutions to assist problem solving and better device usage.

Troubleshooter: providing list of frequent asked questions and solutions.

Downloads: providing archive of latest firmware, application notes, compatibility reports, and manuals.
All the information and services are free of charge. To access the information at Thecus® Support Center, registration is required. Registration is free and only takes a few seconds to complete. Users not only are given channel to communicate with Thecus® technical team, but also are provided with a platform to retrieve useful knowledge and tools. It is an extremely handy online archive.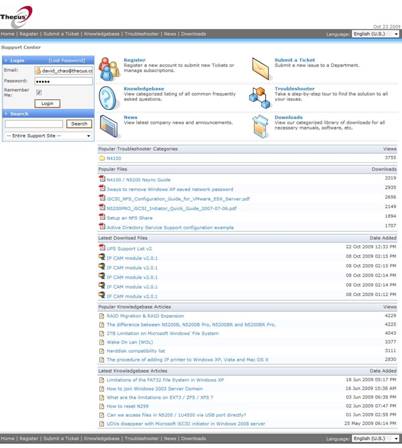 Here it is again, Thecus® Support Center is online at your service.
---
About Thecus
®
Thecus® Technology Corp. specializes in IP Storage Server solutions, including Network Attached Storage (
NAS
) , DAS, External Storage and Wireless Media
NAS
(Bank ) products. The company was established in 2004 with the mission to make technology as transparent and easy-to-use as possible, and to make products that are not only the best on the market, but are accessible to experts and novices alike. With a best-in-class R&D team highly experienced in storage hardware and Linux software and with a keen customer focus, Thecus® stays close to the market to develop high-quality products to fulfill the storage Server needs of today's world.
For sales inquiries, please contact us via email:
sales@thecus.com
For marketing inquiries, please contact us via email:
marketing@thecus.com