For sales inquiries,
please contact us at:


sales@thecus.com
For marketing inquiries, please contact us at:


marketing@thecus.com
2009-10-21
"An extremely solid five-bay NAS for the office"

10/21/2009 – Business users know that data has to not only be retrieved quickly, but also secured and protected. That's why the new N5500 from Thecus® is causing many of these users to sit up and take notice. In their October 2009 issue, HWM Magazine Singapore took the N5500 out for a spin, and in the end was so impressed with the unit, decided to award it with their Gold Award!
Data security and uptime are critical for the business crowd: "If you're in the market for a five-bay NAS appliance that's not only fast, but also has what it takes to protect your data; Thecus might just have what you're looking for with the new N5500. One feature that Thecus shouts out on the N5500 is what they call 'Dual DOM,' with DOM being short for 'Disk On Module.' A DOM is simply some flash memory which appears as a small hard disk drive containing an embedded operating system that's used to boot the overall system. Fault tolerance is essential where crucial business data is concerned, and where the N5500's operating system is concerned, Thecus has this one in the bag."
If it's performance you're after, the N5500 will not disappoint: "From a performance perspective, we had rather high expectations of the N5500, and in no way did it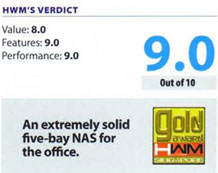 disappoint. We threw our regular set of 1TB Hitachi hard drives at it in three different configurations: RAID 0 (striped), RAID 5 and RAID 6. RAID 0 gave us a grand total of 4.17TB worth of usable storage, which the other two RAID modes produced 3.34 TB and 2.5TB respectively. What we didn't expect was that no matter the RAID configuration, the N5500 would perform pretty much on an equal level across the board, averaging approximately 67MB/s in our read tests and 75MB/s for write. Those are some pretty speedy numbers, and rank up there with some of the fastest NAS solutions we've tested yet."
The verdict? "As a whole, the N5500 is no slouch, whether in performance or feature set...With 2TB hard drives now being quite affordable, a NAS like this for your office setup would certainly be a long-term investment worth considering."
For the full review, check out the October 2009 issue of HWM Magazine Singapore.
For more information on the N5500, check out:
http://www.thecus.com/products_over.php?cid=11&pid=143
---
About Thecus
®
Thecus® Technology Corp. specializes in IP Storage Server solutions, including Network Attached Storage (
NAS
) , DAS, External Storage and Wireless Media
NAS
(Bank ) products. The company was established in 2004 with the mission to make technology as transparent and easy-to-use as possible, and to make products that are not only the best on the market, but are accessible to experts and novices alike. With a best-in-class R&D team highly experienced in storage hardware and Linux software and with a keen customer focus, Thecus® stays close to the market to develop high-quality products to fulfill the storage Server needs of today's world.
For sales inquiries, please contact us via email:
sales@thecus.com
For marketing inquiries, please contact us via email:
marketing@thecus.com