For sales inquiries,
please contact us at:


sales@thecus.com
For marketing inquiries, please contact us at:


marketing@thecus.com
2009-10-16
A quality network storage solution for both individuals and SMBs

10/16/2009 – The recently released Thecus® N0503 ComboNAS, with its intuitive interface and modern design, is quickly capturing the hearts of both home and SMB users alike. Recently, Taiwan's Digital Home Magazine tested the N0503. During their testing, the N0503 exhibited excellent results, both in performance and in features. In the end, the N0503 received much praise from the editorial staff, winning their highest honor - the Editor Choice Award!
With both flexibility and reliability, and a unique combo bay design, the N0503 provides users with a completely new NAS experience: "The Thecus® N0503 ComboNAS can accommodate both 2.5" and 3.5" hard disks. This combo bay design provides users added flexibility and choice."
Strong performance and robust features certainly commanded a lot of attention: "The N0503's Intel Atom 1.6GHz CPU and 1GB of memory deliver fast system response and data transfer speeds compared to traditional NAS units. Dual Gigabit Ethernet ports allow the N0503 to avoid speed issue due to insufficient bandwidth, giving users a truly effective advanced network storage device. The included iTunes Server, Photo Web Server, uPnP Media Streaming, support for BT and eMule downloads, and IP cam support enable you to use the N0503 for a number of applications, including surveillance at home or at the office."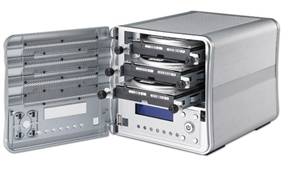 The conclusion: "The Thecus® N0503 ComboNAS is like a high-quality wooden speaker. Its top half resembles a CD player, while its bottom half includes a very special LCD that displays system messages and status. This gives the user a very modern and elegant looking device…this is a quality network storage solution for both individuals and SMBs."
To read the full review, check out the October 2009 issue of Digital Home Magazine.
For more information on the N0503, check out:
http://www.thecus.com/products_over.php?cid=12&pid=179
---
About Thecus
®
Thecus® Technology Corp. specializes in IP Storage Server solutions, including Network Attached Storage (
NAS
) , DAS, External Storage and Wireless Media
NAS
(Bank ) products. The company was established in 2004 with the mission to make technology as transparent and easy-to-use as possible, and to make products that are not only the best on the market, but are accessible to experts and novices alike. With a best-in-class R&D team highly experienced in storage hardware and Linux software and with a keen customer focus, Thecus® stays close to the market to develop high-quality products to fulfill the storage Server needs of today's world.
For sales inquiries, please contact us via email:
sales@thecus.com
For marketing inquiries, please contact us via email:
marketing@thecus.com