For sales inquiries,
please contact us at:


sales@thecus.com
For marketing inquiries, please contact us at:


marketing@thecus.com
2006-04-18
Texture, looks, and the design pretty much solid for enterprise segment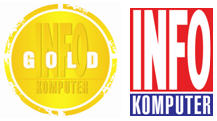 04/18/2006 – One of the leading corporate computer magazine in Indonesia, Info Komputer, recently reviewed the fabulous Thecus N4100. From their point of view, the editors said they are very amazed with the usability of N4100 and how easy the N4100 interacts with network environment.
Here is some review from InfoKom editors: "Thecus will provide your needs with maximum four hard drive at a time to handle the data of your terabytes files."
The friendly way of Thecus N4100 : "We were extremely admire with easy to use of Thecus N4100, although the first time we think could get a difficulty to install on the network, but that's only a few moment."
Some features from Thecus N4100: "With so many enterprise features such like hot swap, hot spare, Nsync, FTP server, RAID 0/1/5/JBOD, Gigabit LAN, access right for users, we can say Thecus N4100 is very friendly sophisticated technology for end users."
For full review, please see Info Komputer April 2006 issue page 163.
For more information on Thecus, go to: http://www.thecus.com/
---
About Thecus

Thecus® Technology Corp. specializes in IP Storage Server solutions. The company was established in 2004 with the mission to make technology as transparent and easy-to-use as possible, and to make products that are not only the best on the market, but are accessible to experts and novices alike. With a best-in-class R&D team highly experienced in storage hardware and software and with a keen customer focus, Thecus® stays close to the market to develop high-quality products to fulfill the storage needs of today's world.
For more information, please visit the Thecus® website at:
http://www.thecus.com
For sales and other inquiries, please contact us via email:
sales@thecus.com