For sales inquiries,
please contact us at:


sales@thecus.com
For marketing inquiries, please contact us at:


marketing@thecus.com
2009-10-14
"A perfect mix between power and elegance"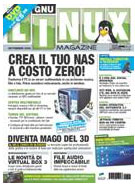 10/14/2009 – Thecus® Technology is known as the leading designer of powerful and flexible NAS devices. The three-bay N3200PRO combines these two philosophies into one amazing storage device. Linux Magazine Italy took a close look at the N3200PRO in their September 2009 issue, and discovered just how much it has to offer, calling it "a perfect mix between power and elegance."
The N3200PRO is expertly designed with a huge storage capacity, robust media sharing capabilities, and low power consumption: "Equipped with 3 internal SATA hard disk bays, the N3200PRO is capable of supporting a maximum capacity of 3 TB (3000 GB). Particular attention should be paid to its role of Media Server, through which you can share and stream multimedia content on devices that support the DLNA standard. Certainly having a device stay operational 24 hours a day makes us wonder how such a device may affect our electricity bills. Not to worry as the N3200PRO is equipped with an AMD Geode processor, which capable of offering good performance without compromising power consumption. Heat dissipation is guaranteed not only by rear fan, but also from the entirely aluminum body."
Managing downloads and connecting wirelessly is easily done: "The icing on the cake is the presence of a Download Manager. This option will attract without any uncertainty the frequent users of P2P networks such as eMule. Many customers would be satisfied if the Thecus N3200PRO had a Wi-Fi card already built-in, but the opportunity to exploit this type of connectivity is an option via a user-friendly USB wireless adapter that connects the rear right next to the eSATA port that provides even more storage capacity if you need it in the future."
Backing up your data is easy with the N3200PRO: "With a second front USB port, backing up our USB drive will be practical and fast. After you plug the drive into the USB port and press a single button on the front panel, the copy will start and finish in record time! It is the timing of the strength that Thecus boasts with this new product. The N3200PRO is in fact the first NAS home able to offer RAID 5… RAID 5 allows for even faster access to stored data, as well as offering a high level of security if one hard disk should present problems."
For the full review, check out the September 2009 issue of Linux Magazine Italy.
For more information on the N3200PRO, check out:
http://www.thecus.com/products_over.php?cid=12&pid=89
---
About Thecus
®
Thecus® Technology Corp. specializes in IP Storage Server solutions, including Network Attached Storage (
NAS
) , DAS, External Storage and Wireless Media
NAS
(Bank ) products. The company was established in 2004 with the mission to make technology as transparent and easy-to-use as possible, and to make products that are not only the best on the market, but are accessible to experts and novices alike. With a best-in-class R&D team highly experienced in storage hardware and Linux software and with a keen customer focus, Thecus® stays close to the market to develop high-quality products to fulfill the storage Server needs of today's world.
For sales inquiries, please contact us via email:
sales@thecus.com
For marketing inquiries, please contact us via email:
marketing@thecus.com