For sales inquiries,
please contact us at:


sales@thecus.com
For marketing inquiries, please contact us at:


marketing@thecus.com
2009-10-12
Five-bay dynamo secures a 90% overall rating with TT editors
10/12/2009 – Delivering both data security and performance in spades, the N5500 is quickly becoming the sweet spot for hardware enthusiasts and SMBs alike. The editors of TweakTown recently examined the five-bay dynamo from Thecus®, and praised its incredibly strong performance and attractive price point. In fact, they saw it fitting to not only rate it with an overall score of 90%, but also give it their prestigious Best Performance Award!
TweakTown editors quickly pick up on some of the N5500's standout features: "When it comes to the hardware the Thecus N5500 is top notch. The system uses a Core2 processor with a full 1GB of memory and gigabit Ethernet. The dual Ethernet ports support Link Aggregation (802.3ad) for load balancing or fail over redundancy. Connectivity is the N5500s strong suit. The NAS is able to function as a NAS or DAS. The Direct Attached Storage feature is worked in through the eSATA port but there is also a USB option for direct attachment to your PC. The N5500 also supports iSCSI and this makes the N5500 the first storage device to support NAS, DAS and iSCSI all in one."
For the money, the N5500 offers some amazing performance: "In this set of tests we see similar results with the N5500 doing a number on the N5200. There are nearly identical numbers to what we saw in the QNAP TS-803 Pro Turbo NAS, a near 2,000 USD NAS server using 8 HDDs."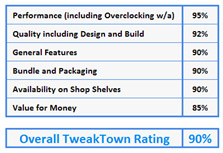 The N5500 is also an excellent value: "The Intel Core2Duo processor coupled with 1GB of memory really makes for a strong storage solution for consumers, prosumers and small business users. The transfer performance we saw today is close to what we have seen in some of the more expensive seven and eight drive NAS servers that cost at least a grand more. In today's economy everyone is looking to stretch each dollar as far as they can. This works out well for Thecus in more ways than one…Coming in second on the price scale is the N5500 that we tested here today at 849.99, a full 50 USD cheaper than QNAP's TS-509. "
The bottom line? "The Thecus N5500 is a great successor to the aging N5200 and a unit that will impress its users almost as quickly as it transfers data."
For the full review, check out:
http://www.tweaktown.com/reviews/2949/
thecus_n5500_five_bay_nas_server/index.html
For more information on the N5500, check out:
http://www.thecus.com/products_over.php?cid=11&pid=143
---
About Thecus
®
Thecus® Technology Corp. specializes in IP Storage Server solutions, including Network Attached Storage (
NAS
) , DAS, External Storage and Wireless Media
NAS
(Bank ) products. The company was established in 2004 with the mission to make technology as transparent and easy-to-use as possible, and to make products that are not only the best on the market, but are accessible to experts and novices alike. With a best-in-class R&D team highly experienced in storage hardware and Linux software and with a keen customer focus, Thecus® stays close to the market to develop high-quality products to fulfill the storage Server needs of today's world.
For sales inquiries, please contact us via email:
sales@thecus.com
For marketing inquiries, please contact us via email:
marketing@thecus.com