For sales inquiries,
please contact us at:


sales@thecus.com
For marketing inquiries, please contact us at:


marketing@thecus.com
2009-10-05
New AES 256 bit RAID Volume Encryption Now Available on Thecus® NAS
10/05/2009 – Losing confidential data could have catastrophic impact on businesses. Therefore, protecting critical data has always been a top priority for Thecus®. For that, Thecus® has added the AES 256bit RAID volume encryption feature on its enterprise series, which includes N0503, N5500, N7700, N7700SAS, N8800, and N8800SAS. With AES 256bit RAID encryption, Thecus is raising the security level even higher for enterprise users.
Building a RAID array with encryption is very easy. All you need to do is plug in a writable USB disk into he NAS during RAID configuration. Tick the "Encryption" box, enter a password of your choice, and then confirm it. Complete the rest of the setup and click the "create" button to complete the RAID encryption process.
Refer to the screenshot below.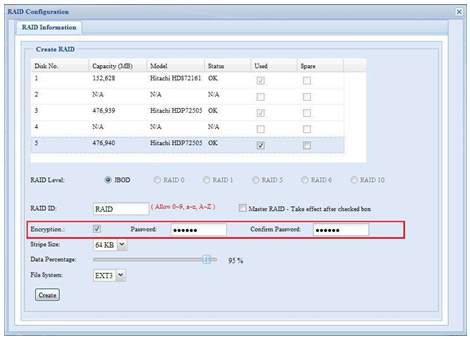 Once you have built a RAID array with encryption, no one will be able to access your data or modify your settings without the USB key. However, it is important to keep this USB key safe and be sure to make duplicate copy of the USB key in case it is lost. This new RAID volume encryption feature can be acquired simply through a simple firmware upgrade .
By utilizing this new AES 256bit RAID volume encryption feature, users now have an added layer of protection for their sensitive data.
---
About Thecus®
Thecus® Technology Corp. specializes in IP Storage Server solutions, including Network Attached Storage (NAS) , DAS, External Storage and Wireless Media NAS (Bank ) products. The company was established in 2004 with the mission to make technology as transparent and easy-to-use as possible, and to make products that are not only the best on the market, but are accessible to experts and novices alike. With a best-in-class R&D team highly experienced in storage hardware and Linux software and with a keen customer focus, Thecus® stays close to the market to develop high-quality products to fulfill the storage Server needs of today's world.
For sales inquiries, please contact us via email: sales@thecus.com
For marketing inquiries, please contact us via email: marketing@thecus.com