For sales inquiries,
please contact us at:


sales@thecus.com
For marketing inquiries, please contact us at:


marketing@thecus.com
2009-10-05
"The miniNAS is just sheer fun…Amazing."

10/05/2009 – The Thecus® N0204 miniNAS is quickly winning over the hardware media with its small size and big features. Gadget3 Magazine tested the pint-sized wonder in their September 2009 issue, and after they looked at it from every angle, realized just how handy it can be. In fact, they even awarded it a final score of 17 out of 20!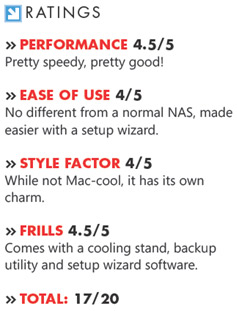 Gadget3 was quick to notice that despite its small size, the N0204 is a very capable NAS device: "The miniNAS is just sheer fun; never before has doing something as mundane as sorting your files been so cool. For the less inclined, NAS is short for Network-Attached Storage, and originated as an enterprise-level tool. While consumer NAS systems are common, mini NASes are not. Thecus' take on Mini NASes is, for lack of a better word, adorable. It looks like a toy, but make no mistake, this aluminum-bodied trinket is a fully capable NAS that can accomplish most of the tasks its larger cousins are known for. It can function as an iTunes, photo web, or media server. It's also hot-swappable and supports RAID 0, RAID 1, and JBOD configurations."
The possibilities are nearly endless: "There are also plenty of interesting stuff you can do with it – attach a webcam and turn it into a surveillance system, or attach a supported wireless dongle to turn it into a wireless storage unit. Amazing."
The conclusion? "Its compact size and powerful capabilities make the miniNAS an impressive workhorse that has got us all excited. There are plenty of functional ways you can apply this for both home and office use."
For the full review, check out the September 2009 issue of Gadget3 Singapore Magazine.
For more information on the N0204, check out:
http://www.thecus.com/products_over.php?cid=12&pid=137
---
About Thecus
®
Thecus® Technology Corp. specializes in IP Storage Server solutions, including Network Attached Storage (
NAS
) , DAS, External Storage and Wireless Media
NAS
(Bank ) products. The company was established in 2004 with the mission to make technology as transparent and easy-to-use as possible, and to make products that are not only the best on the market, but are accessible to experts and novices alike. With a best-in-class R&D team highly experienced in storage hardware and Linux software and with a keen customer focus, Thecus® stays close to the market to develop high-quality products to fulfill the storage Server needs of today's world.
For sales inquiries, please contact us via email:
sales@thecus.com
For marketing inquiries, please contact us via email:
marketing@thecus.com