For sales inquiries,
please contact us at:


sales@thecus.com
For marketing inquiries, please contact us at:


marketing@thecus.com
2009-09-30
"The Thecus N4100PRO is certainly a great choice"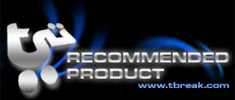 09/30/2009 – For many home and SMB users, the four-bay Thecus® N4100PRO NAS device is a perfect mix of data security, storage capacity, and snappy performance. Recently, T-Break had the chance to test the N4100PRO and walked away very impressed. What's more, they liked it so much that they dubbed the N4100PRO a Recommended Product!
Flexible and secure storage options are plentiful with the N4100PRO: "The N4100PRO has a total of four 3.5″ bays and offers a pretty impressive set of functionality. Starting off, you can select between different types of RAID such as RAID0 for speed or RAID1 for mirror along with RAID5, RAID6 and RAID10 that offer a mix of speed and protection. With a maximum of four drives, I would recommend you setup RAID5 which will give you the highest storage along with failure against one of the drives."
The features included with the N4100PRO are impressive as well: "Once your drives are set, you can create users and folders and provide access accordingly to keep secure data secure. For multimedia enthusiasts, Thecus includes an iTunes Server, a DLNA server and a uPnP server for streaming your content. For file transferring a Download manager in included with support for torrent files along with an FTP server."
The verdict? "If you're looking for a unit that stores videos and such along with offering downloading capabilities, then the Thecus N4100PRO is certainly a great choice…Overall, I must say that I am quite impressed with the N4100PRO. It's quite small in size for a NAS device that offers this amount of functionality. Priced roughly $400, the N4100PRO is a bit cheaper than other NAS devices of somewhat similar capabilities making it a great buy."
For the full review, check out:
http://tech.tbreak.com/2009/09/thecus-n4100-pro-nas-device/
For more information on the N4100PRO, check out:
http://www.thecus.com/products_over.php?cid=10&pid=77
---
About Thecus
®
Thecus® Technology Corp. specializes in IP Storage Server solutions, including Network Attached Storage (
NAS
) , DAS, External Storage and Wireless Media
NAS
(Bank ) products. The company was established in 2004 with the mission to make technology as transparent and easy-to-use as possible, and to make products that are not only the best on the market, but are accessible to experts and novices alike. With a best-in-class R&D team highly experienced in storage hardware and Linux software and with a keen customer focus, Thecus® stays close to the market to develop high-quality products to fulfill the storage Server needs of today's world.
For sales inquiries, please contact us via email:
sales@thecus.com
For marketing inquiries, please contact us via email:
marketing@thecus.com