For sales inquiries,
please contact us at:


sales@thecus.com
For marketing inquiries, please contact us at:


marketing@thecus.com
2009-09-28
"Perfect for SOHO and small scale organizations"

09/28/2009 – Brimming with versatility and value, the Thecus® N3200PRO is quickly becoming the NAS server of choice for SOHO users – and it's easy to see why. HWM Malaysia Magazine recently tested the N3200PRO and praised its flexibility and extensive feature set. In fact, they even gave it their coveted Silver Award and a final rating of 8.5 out of 10!
The N3200PRO brings RAID 5 home: "When a NAS device has more than one hard disk drive bay, it can offer options for RAID backup redundancy modes. Most two bay NAS offer RAID 0, RAID 1, JBOD or a combination of the two RAID settings. With three hard disk drive bays, the Thecus N3200PRO can offer RAID 5 as well, which increases the capacity of the NAS device while offering the same backup redundancy for any one disk in the array. As each drive bay in the N3200PRO can support a 1TB hard disk drive this means that it can offer RAID 5 backup redundancy of up to 2TB with a full complement of three 1TB hard disk drives.'"
Wireless connectivity and energy efficiency are baked right in: "The other feature that makes the Thecus N3200PRO special is that it is fully compatible with USB wireless dongles. This allows you to hook up the NAS to your wireless network without any messy wires… Instead of going for the Intel Atom or a Marvell processor, the Thecus N3200 PRO is powered by an AMD Geode which helps improve energy efficiency."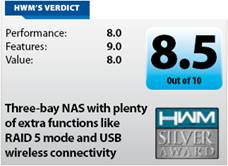 To top it all off, the N3200PRO has no shortage of useful features: "The Thecus N3200PRO offers a host of functions and features including server functions like file server, FTP server, backup server, printer server, Web surveillance sever, backup server, printer server, Web server, media server, iTunes Server and download server. These functions along with the RAID 5 and USB wireless dongle capability make this NAS perfect for SOHO and small scale organizations as it offers a full complement of features to make up for its rather limited storage capacity."
For the full review, check out the September 2009 issue of HWM Magazine.
For more information on the N3200PRO, check out:
http://www.thecus.com/products_over.php?cid=12&pid=89&set_language=english
---
About Thecus
®
Thecus® Technology Corp. specializes in IP Storage Server solutions, including Network Attached Storage (
NAS
) , DAS, External Storage and Wireless Media
NAS
(Bank ) products. The company was established in 2004 with the mission to make technology as transparent and easy-to-use as possible, and to make products that are not only the best on the market, but are accessible to experts and novices alike. With a best-in-class R&D team highly experienced in storage hardware and Linux software and with a keen customer focus, Thecus® stays close to the market to develop high-quality products to fulfill the storage Server needs of today's world.
For sales inquiries, please contact us via email:
sales@thecus.com
For marketing inquiries, please contact us via email:
marketing@thecus.com