For sales inquiries,
please contact us at:


sales@thecus.com
For marketing inquiries, please contact us at:


marketing@thecus.com
2006-04-13
Receives award for recognition of excellence in digital storage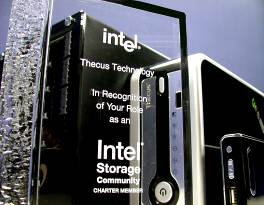 Taipei, Taiwan, 04/13/2006 – This past January, Thecus Technology, a leading provider of digital storage solutions, became a part of the Intel® Storage Community (ISC). With a strong commitment to providing leading-edge, standards-based solutions in the storage market with its investments in the next generation of platforms, Intel bestowed Thecus with an award in recognition of Thecus' role as a charter member of the ISC. As a charter member of the ISC, Thecus has early involvement with new Intel technologies for timely market delivery and joint activities in the development of leading-edge storage solutions, such as the award winning N4100 and YES Box N2100 NAS devices.
The Thecus N4100 IP Storage Appliance
The N4100 offers a robust 4-bay NAS solution for small-to-medium businesses. Featuring Thecus' Nsync Technology, users can have the N4100 automatically upload files to an external server via FTP at a designated time. If disaster hits, users can recover their data from the remote server. Designed for SMBs to enhance data security, Nsync takes the guesswork out of data backup. In addition to Nsync, the N4100 supports Windows ADS, a Wireless Access Point mode, and a multi-lingual user interface. For fast and secure storage, hot-swappable RAID 5 is included as well.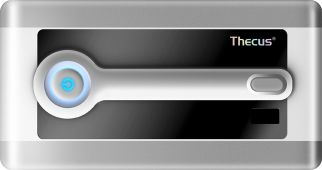 Multimedia enthusiasts looking for a smart and convenient way to store and share their movies, files, and music will love the YES Box N2100 NAS device. Fun is built right in with an iTunes Server, a Web Photo Server, and support for BitTorrent P2P. What's more, the YES Box N2100 also has Print Server capability, and optional wireless access point mode, allowing users to enjoy their files without the tangle of cables.
The Intel® Storage Community is a community of storage developers and solution providers committed to the development of innovative standards-based storage solutions that are based on the latest Intel technologies and building blocks.
To learn more, please visit: http://www.intel.com/design/network/IntelStorageCommunity/index.htm
For more information on Thecus, go to: http://www.thecus.com/
---
About Thecus
Thecus® Technology Corp. specializes in IP Storage Server solutions. The company was established in 2004 with the mission to make technology as transparent and easy-to-use as possible, and to make products that are not only the best on the market, but are accessible to experts and novices alike. With a best-in-class R&D team highly experienced in storage hardware and software and with a keen customer focus, Thecus® stays close to the market to develop high-quality products to fulfill the storage needs of today's world.
For more information, please visit the Thecus® website at: http://www.thecus.com
For sales and other inquiries, please contact us via email: sales@thecus.com