For sales inquiries,
please contact us at:


sales@thecus.com
For marketing inquiries, please contact us at:


marketing@thecus.com
2009-09-23
Pocket-sized NAS device offers excellent features and performance

09/23/2009 – The pint-sized N0204 miniNAS is making big waves in the hardware community. The latest review comes from the experts at Trusted Reviews, who recently put Thecus®' N0204 on the test bench. What they found was a very capable NAS unit that fits in the palm of your hand, awarding it a strong 8 out of 10!
With the N0204, small size is only the beginning: "Thecus doesn't mince its words with its latest N0204 miniNAS as it claims it is the world's smallest NAS appliance. We certainly won't disagree as its compact dimensions of only 132 x 88 x 63mm means it'll fit in your palm, your bag and even your pocket…The appliance supports JBODs, stripes and mirrors and for the latter you can hot-swap out a failed drive."
Easy to set up with strong performance: "Thecus has installation down to a fine art as the bundled Setup Wizard offers a one-click setup. For the test system, it created a mirrored array, automatically installed the operating system and created a bunch of predefined service folders ready for use…The N0204 put in a reasonable showing in our performance tests with copies of a 2.52GB video to and from a Broadberry dual 2.8GHz Xeon X5560 server returning average read and write speeds of 28MB/sec and 15.5MB/sec. We found FTP speeds to be better with the FileZilla client utility reporting speeds of 42MB/sec and 19MB/sec with the same file."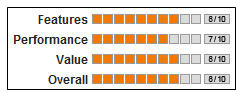 The conclusion? "This pocket-sized package looks a good candidate as a portable NAS appliance. Performance is good enough for a general purpose storage device, the features belie its size and power consumption is extremely low."
For the full review, check out:
http://www.trustedreviews.com/networking/review/2009/08/29/Thecus-N0204-miniNAS/p1
For more information on the N0204, check out:
http://www.thecus.com/products_over.php?cid=12&pid=137
---
About Thecus
®
Thecus® Technology Corp. specializes in IP Storage Server solutions, including Network Attached Storage (
NAS
) , DAS, External Storage and Wireless Media
NAS
(Bank ) products. The company was established in 2004 with the mission to make technology as transparent and easy-to-use as possible, and to make products that are not only the best on the market, but are accessible to experts and novices alike. With a best-in-class R&D team highly experienced in storage hardware and Linux software and with a keen customer focus, Thecus® stays close to the market to develop high-quality products to fulfill the storage Server needs of today's world.
For sales inquiries, please contact us via email:
sales@thecus.com
For marketing inquiries, please contact us via email:
marketing@thecus.com