For sales inquiries,
please contact us at:


sales@thecus.com
For marketing inquiries, please contact us at:


marketing@thecus.com
2009-09-22
Green NAS and Eco-Friendly Devices to Appear in Madrid
09/22/2009 - Storage leader Thecus® Technology is aggressively bringing its latest NAS products to users around the world. From September 22nd to 24th, Thecus® and long time valued partner Dakel Informática, S.A. are teaming up to attend SIMO Network 2009, one of the largest network-related trade shows at IFEMA Exhibition Center (hall 7, stand 9E17) in Madrid Spain. At the exhibition, Thecus® and Dakel will demonstrate a variety of Thecus® NAS devices in action.
Pocket RAID Storage - N0204 miniNAS™

No bigger than the size of a book, the N0204 miniNAS™ is a breakthrough in NAS engineering. From its diminutive exterior, one could easily mistake it as a regular external hard drive. But look closer and you will see a very capable two-bay NAS device that fits right in the palm of your hand. The N0204 miniNAS™ houses two 2.5" SATA hard disks, providing at least 1TB of storage, and even comes with SSD support. Talking about Green NAS, the N0204 can't be more eco-friendly. With just a little over 10W of power consumption, the miniNAS™ is the perfect substation for PC with many application features, saving your electricity bill. With vast of multimedia features, it is the ideal fit for home environment.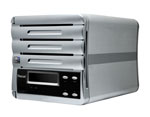 Unparalleled Flexibility - N0503 ComboNAS™
The N0503 ComboNAS™ has catched many users attention with its special combo hard disk tray design. Using its special combo hard disk bays, the N0503 can actually support up to five 2.5" hard disks or three 3.5" hard disks. Fill the N0503 with three 3.5" hard disks and the N0503 is a high-performance three-bay NAS with up to 6TB of storage capacity. Equip the N0503 with five 2.5" hard disks, and you have a five-bay NAS unit that offers lower power consumption and noise. With dual form-factor hard disk support, users are given unparalleled flexibility with the N0503. It also offers quick system response and file transfer capabilities with its powerful Intel® ATOM™ CPU and dual Gigabit Ethernet ports. High performance and rich functionality, the N0503 makes a perfect place to house your digital data.
Best Selling Power Storage Server – N5200 series, 1U4500, N7700, and N8800
For office and hardware enthusiasts, lack of storage capacity is always a pain. Thecus® brings just the solution to all users with high performance, rich functionality, and expandable storage fortress, N5200 series (5-bay tower), 1U4500 (4-bay 1U), N7700 (7-bay tower), and N8800 (8-bay 2U). Equipped with hot-swappable SATA 3.5" hard disk bays, the four units are with whopping 10TB , 8TB, 14TB, and 16TB of total storage capacity respectively. Varity of server functionalities are the ideal tool for office and power users. Come to SIMO to get more detail of these performance, security, and flexibility all-in-one units.
Unrivaled Efficiency and Data Security - N5500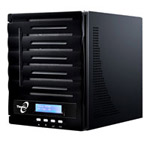 The N5500 is engineered to store your data and keep it safe. The N5500 is equipped with five hot-swappable SATA 3.5" hard disk bays for a whopping 10TB of total storage capacity. To protect this data, the N5500 lets you choose from a wide selection of RAID modes, including RAID 0, 1, 5, 6, and JBOD. The N5500 shines terms of flexibility with support for multiple file systems, including XFS, ext3 and ZFS, and with its unique dual-DOM design, users do not need to worry about down-time due to unexpected system failure. Witness the N5500 in action at SIMO.
The Ultimate Business NAS - N7700SAS and N8800SAS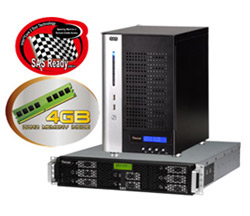 For those looking for ultimate NAS storage, the N7700SAS and N8800SAS will truly represent the most powerful and flexible NAS devices on the market today. The N7700SAS and N8800SAS bring the latest technologies to the table, including seven and eight SATA/SAS hard disk bays that accommodate multiple terabytes of storage, and support for ext3, ZFS, and XFS file systems. To manipulate all of this data, an Intel® Core 2 Duo processor and 4GB of DDR2 memory allow for more concurrent connections and quicker system response. Offering massive storage, market-leading performance, and excellent flexibility, the N7700SAS is the ultimate NAS device. Advanced server features combine to form powerful yet cost-effective NAS solution that is perfect for medium-to-large organizations.
The upcoming breakthrough NAS devices for home and enterprise from Thecus®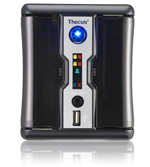 Great addition to digitalized home environment, Thecus® is introducing the friendliest and most affordable two-bay NAS, the N2200. The N2200 is ideal for storing your entire collection of digital media. With capacity for two 3.5" SATA hard disks, the N2200 can easily accommodate at least 4TB of storage. Versatile features on the N2200 are delivering great convenience to home, eg. data protection, multimedia applications for home entertainment, downloading, and more. Most important of all, as low as 11w, leaving it on 24/7 does not cost much at all. A perfect replacement for PC right at home. N2200 will be available in October 2009.
For enterprise environment, Thecus® is introducing the latest 7-bay tower and 8-bay 2U NAS, the N7700PRO and N8800PRO, with blistering performance unmatched reliability, and maximum flexibility. At the core is an Intel® Core 2 Duo CPU and a whopping 4GB of high-speed DDR2 memory, making both the most powerful NAS units available. In fact, with these superior specifications, the both units can reach data transfer speeds of over 300MB/s! N7700PRO and N8800PRO supports seven and eight 3.5" SATA drive bays that can accommodate up to 14TB and 16TB of storage respectively. Both units are equipped with rich server functions, allowing enterprise to save cost on purchasing MIS equipments. Most important of all, both N7700PRO and N8800PRO come with internal PCI-e slot so that users can install an add-on card such as a 10Gbit Ethernet adaptor for greatly increased throughput, unique design you will only find with Thecus®. The latest N7700PRO and N8800PRO deliver the performance and convenience of future right to your office. Both will be available in October 2009
Visit Dakel Informática, S.A. and Thecus® at SIMO Network Exhibition 2009, hall 7 stand 9E17. Experience the advantages and convenience of Thecus® NAS.
For more information about SIMO Network 2009, go to:
http://www.simo.ifema.es/en/portal.do
For more information about Dakel Informática, S.A., go to:
http://www.dakel.com/
---
About Thecus
®
Thecus® Technology Corp. specializes in IP Storage Server solutions, including Network Attached Storage (
NAS
) , DAS, External Storage and Wireless Media
NAS
(Bank ) products. The company was established in 2004 with the mission to make technology as transparent and easy-to-use as possible, and to make products that are not only the best on the market, but are accessible to experts and novices alike. With a best-in-class R&D team highly experienced in storage hardware and Linux software and with a keen customer focus, Thecus® stays close to the market to develop high-quality products to fulfill the storage Server needs of today's world.
For sales inquiries, please contact us via email:
sales@thecus.com
For marketing inquiries, please contact us via email:
marketing@thecus.com