For sales inquiries,
please contact us at:


sales@thecus.com
For marketing inquiries, please contact us at:


marketing@thecus.com
2009-09-21
"Four hot-swap bays and good speed make this a good choice"

09/21/2009 – When some companies release new products, they simply make a slight cosmetic change and ship it out the door. Not so with Thecus®' N4100PRO. One look under the hood and you'll realize that it's got a lot more going on than just a fresh coat of paint. In fact, The N4100PRO is out fitted with some heavily upgraded technology, creating an instant four-bay classic. PC User Magazine recently brought the N4100PRO into their test labs, seeing how it measures up to some of the other NAS units on the market. In the end, they learned that the N4100PRO is a stunning piece of digital storage hardware, giving it a rating of 85% and their Best Buy Award to boot!
The N4100PRO is an amazing value when you consider all that you are getting in the box: "The N4100PRO is an impressive unit with its four hot-swappable bays, various RAID options, decent speed and comparatively low price. It's only $30 more than the two-bay QNAP TS-219P."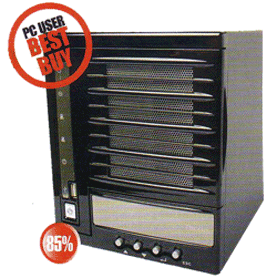 Superior storage options and data performance are N4100PRO hallmarks: "The hot-swap bays support RAID 0, 1, 5, 6, 10 as well as JBOD, so there are any number of ways to run this ting. It's also quite quick, turning around our 5GB write test in a bit over 5 minutes and reading it back in under 5, which is a great effort."
The conclusion? "...given the features, function and performance, this is a great value if you want to build your own huge storage system (up to 8TB using the latest 2TB drives)."
For the full review, check out the October 2009 issue of PC USER Magazine.
For more information on the N4100PRO, check out:
http://www.thecus.com/products_over.php?cid=10&pid=77
---
About Thecus
®
Thecus® Technology Corp. specializes in IP Storage Server solutions, including Network Attached Storage (
NAS
) , DAS, External Storage and Wireless Media
NAS
(Bank ) products. The company was established in 2004 with the mission to make technology as transparent and easy-to-use as possible, and to make products that are not only the best on the market, but are accessible to experts and novices alike. With a best-in-class R&D team highly experienced in storage hardware and Linux software and with a keen customer focus, Thecus® stays close to the market to develop high-quality products to fulfill the storage Server needs of today's world.
For sales inquiries, please contact us via email:
sales@thecus.com
For marketing inquiries, please contact us via email:
marketing@thecus.com