For sales inquiries,
please contact us at:


sales@thecus.com
For marketing inquiries, please contact us at:


marketing@thecus.com
2009-09-18
N3200PRO Now Supports Web Server and MySQL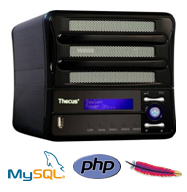 09/18/2009 - The first thing that comes cross people's mind when thinking about Thecus® NAS products would probably be its unlimited expandability. The N3200PRO recently offered full support to IP cameras, now Thecus® is bring more good news to users by officially announcing new Web Server and MySQL support on N3200PRO.
For webpage designers, it is always troublesome to find a host to publish the webpage on the World Wide Web. Although there are thousand of web hosting services on the Internet, one can not help to worry about data security with those services on the Internet, not to mention monthly fee is usually required. It would be handy to have your own host where all the elements on the webpage are securely stored without additional expense. Thecus® gives you just the solution, running your own web server on N3200PRO, affordable, stable and low power platform. Web server and MySQL modules on N3200PRO support Apache web server, PHP, and MySQL database. Integrating NAS and web technology, web content is stored in one location — a share folder on the NAS system. The administrators are able to take advantages of the numerous benefits of NAS:
web content is securely protected by RAID technology and access control.

administrators are able to perform management tasks of web contents easily.

maximum of 6TB of storage is provided.
With the new Web Server and MySQL support, users can utilize N3200PRO to build their personal web space or blogs and share interesting contents with the public via Internet. Best of all, the Web Server and MySQL support can be added through module management and the application module can be downloaded at Thecus® Download Centre without any extra cost.
---
About Thecus
®
Thecus® Technology Corp. specializes in IP Storage Server solutions, including Network Attached Storage (
NAS
) , DAS, External Storage and Wireless Media
NAS
(Bank ) products. The company was established in 2004 with the mission to make technology as transparent and easy-to-use as possible, and to make products that are not only the best on the market, but are accessible to experts and novices alike. With a best-in-class R&D team highly experienced in storage hardware and Linux software and with a keen customer focus, Thecus® stays close to the market to develop high-quality products to fulfill the storage Server needs of today's world.
For sales inquiries, please contact us via email:
sales@thecus.com
For marketing inquiries, please contact us via email:
marketing@thecus.com