For sales inquiries,
please contact us at:


sales@thecus.com
For marketing inquiries, please contact us at:


marketing@thecus.com
2009-09-17
Adding More Power without Additional Charge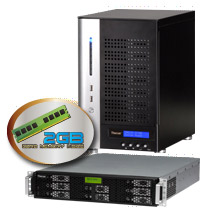 09/17/2009 - Thecus® Enterprise NAS series has been well recognized in the business environment for its rich server features and outstanding performance. Since the release of N7700 and N8800 last year and the recent launch of N7700SAS and N8800SAS, Thecus® quickly became the first choice when business users are selecting the ideal NAS server. Thecus® is now announcing hardware upgrade for N7700 and N8800, upgrading RAM from 1GB to 2GB, and for N7700SAS and N8800SAS, upgrading RAM from 2GB to 4GB.
Today, Thecus® is bringing up the NAS performance for users by upgrading RAM, which is one of the deciding factors of performance, on its enterprise NAS series. For enterprise NAS,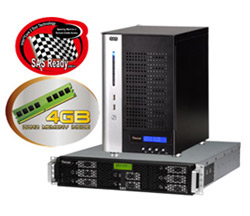 it is common to have multiple users accessing at the same time. With higher RAM now been added, over all performance will be improved thus enable much more users and to run multiple applications at quicker system response and faster file transfer speed during multiple client access. Also, the RAM upgrade is elevating the efficiency of several features such as download manager (FTP/HTTP/BT/eMule), surveillance, and MySQL server. Moreover, the ZFS file system, which requires more hardware resource, will also get a boost in turns of performance. After upgrading, N7700 and N8800 have throughput of at least 540Mbps with 60+ users' simultaneous access. For N7700SAS and N8800SAS, with 4GB RAM, the file transfer speed is 840Mbps. RAM upgrade truly allows more users' concurrent access and applications on N7700, N8800, N7700SAS, and N8800SAS.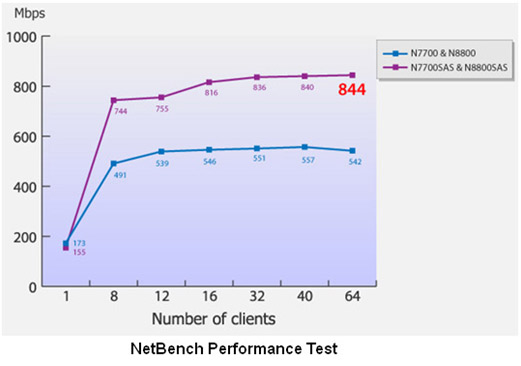 Thecus® will continue to devote its expertise in hardware and software development and develop more innovated, user friendly and cost effective NAS solutions to satisfy the needs of enterprise users.
* The updated version of N7700/N8800 and SAS series will be available from shipment after 09/28/2009.
---
About Thecus
®
Thecus® Technology Corp. specializes in IP Storage Server solutions, including Network Attached Storage (
NAS
) , DAS, External Storage and Wireless Media
NAS
(Bank ) products. The company was established in 2004 with the mission to make technology as transparent and easy-to-use as possible, and to make products that are not only the best on the market, but are accessible to experts and novices alike. With a best-in-class R&D team highly experienced in storage hardware and Linux software and with a keen customer focus, Thecus® stays close to the market to develop high-quality products to fulfill the storage Server needs of today's world.
For sales inquiries, please contact us via email:
sales@thecus.com
For marketing inquiries, please contact us via email:
marketing@thecus.com