For sales inquiries,
please contact us at:


sales@thecus.com
For marketing inquiries, please contact us at:


marketing@thecus.com
2009-09-09
"One of the most complete mini NAS solutions... It is simply amazing!"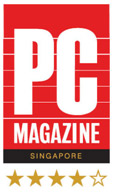 09/09/2009 – People are starting to hear the buzz about the Thecus N0204 miniNAS – the world's tiniest fully-featured NAS device. Once you start digging into its features, it is hard to believe what this little guy can do. In their August 2009 issue, the editors of PC Magazine Singapore took a close look at this small but mighty storage device, and at the end of it all was so impressed, that they awarded it a 4 out of 5 star rating, saying "the N0204 is in a class all its own."
PC Magazine begins with a great summary of the N0204: "First of all, the N0204 miniNAS measures only 132 x 88 x 63 mm exterior. It comes with 2 x 2.5" bay that fits two SATA 2.5" hard disks of up to 1TB of storage. With the 2 HDD, you can configure it to run in RAID 0, 1 or JBOD and they are hot-swappable. For users who prefer speedier performance, you can set up the two HDD in a RAID 0 strip array. That will give you utmost speed performance. The N0204 even comes with Thecus' Nsync for remote replication as well as the Thecus Backup Utility for total data security. With huge storage, RAID functionality, and advanced data safeguards packed into a tiny device, the N0204 is in a class all its own."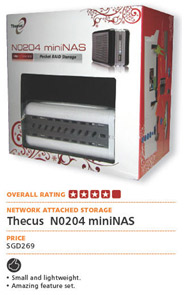 Although tiny, the N0204 is packed with powerful features: "In addition of being the smallest NAS available in the market, the N0204 has some amazing features that might not be available on other NAS. It can function as a complete media hub with its built-in iTunes server, photo web server, and media server. With these capabilities, you can watch your videos, pictures, and music in the N0204 by using any DLNA compliant media players. A neat feature of the N0204 is that you can schedule it to download files via HTTP, FTP or Bit Torrent by providing the URL. With this feature, you don't even need to turn on your PC to download your files as the N0204 will take care of it. The N0204 also supports DDNS and you can set up a FTP server for users to upload or download files remotely."
The conclusion: "Overall, I am impressed with Thecus NAS. It not only provides me with a fully functional NAS device in a small foot print, it can also serve so many additional functions that I have never thought of. It is simply amazing!"
For the full review, check out the August 2009 issue of PC Magazine Singapore.
For more information on the N0204, check out:
http://www.thecus.com/products_over.php?cid=12&pid=137
---
About Thecus
®
Thecus® Technology Corp. specializes in IP Storage Server solutions, including Network Attached Storage (
NAS
) , DAS, External Storage and Wireless Media
NAS
(Bank ) products. The company was established in 2004 with the mission to make technology as transparent and easy-to-use as possible, and to make products that are not only the best on the market, but are accessible to experts and novices alike. With a best-in-class R&D team highly experienced in storage hardware and Linux software and with a keen customer focus, Thecus® stays close to the market to develop high-quality products to fulfill the storage Server needs of today's world.
For sales inquiries, please contact us via email:
sales@thecus.com
For marketing inquiries, please contact us via email:
marketing@thecus.com