For sales inquiries,
please contact us at:


sales@thecus.com
For marketing inquiries, please contact us at:


marketing@thecus.com
2006-03-29
" A smart networked storage solution for home users "

03/30/2006 –The YES Box N2100 from Thecus Technology is a versatile storage device that is perfect for those looking for a convenient way to store and share digital media. The latest review comes from the folks from TrustedReviews. After taking the N2100 through a series of tests, the N2100 passed with flying colors, impressing editors with ease-of-use, low-cost, and the built-in iTunes server.
TrustedReviews begins by introducing the YES Box N2100: "The storage demands of digital photography, video and music libraries are now so high on the average home user's PC that it's starting to make more sense to keep them on a low-cost NAS appliance. There's certainly plenty of choice and we're now seeing a demand for unpopulated boxes that allow you to add your own hard disks...The latest N2100 from Thecus looks a more interesting alternative for home users as this compact, low cost unit is supplied empty and can be fitted with up to two SATA hard disks. A feature that increases it appeal massively is the built-in iTunes server allowing the appliance to share music automatically with iTunes clients."
How did the YES Box N2100 fare in real world testing? "Installation won't take long as the supplied utility displays all discovered appliances ready for configuration…The utility takes you through defining RAID arrays, network interface setup and activating the FTP and iTunes servers…The web interface is easy enough to use and provides plenty of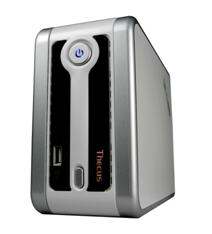 status information on processor and disk temperatures, fan speeds and all installed drives including USB devices…We were very impressed with the iTunes server functions as the N2100 appeared automatically as a music source in our iTunes client interface. We changed our preferences to point to the predefined public iTunes folder on the N2100 and could then import CDs directly to this location."
The conclusion: "The N2100 is a smart networked storage solution for home users wanting to share photo albums, music and general files. The iTunes server features make this particularly versatile..."
For the full review, please go to: http://www.trustedreviews.com/article.aspx?art=2559
For more information on Thecus, please go to: http://www.thecus.com/
---
About Thecus
Thecus® Technology Corp. specializes in IP Storage Server solutions. The company was established in 2004 with the mission to make technology as transparent and easy-to-use as possible, and to make products that are not only the best on the market, but are accessible to experts and novices alike. With a best-in-class R&D team highly experienced in storage hardware and software and with a keen customer focus, Thecus® stays close to the market to develop high-quality products to fulfill the storage needs of today's world.
For more information, please visit the Thecus® website at: http://www.thecus.com
For sales and other inquiries, please contact us via email: sales@thecus.com