For sales inquiries,
please contact us at:


sales@thecus.com
For marketing inquiries, please contact us at:


marketing@thecus.com
2009-09-07
"Great performance and a solid feature set"

09/07/2009 – The N4100PRO from Thecus® is a tribute to the classic N4100 that started the NAS craze. With upgraded performance and a huge feature set, the N4100PRO is the new king of four-bay NAS devices. In the August 2009 issue, HWM Singapore Magazine put the N4100PRO to the test, and after analyzing it from several different angles, they decided to give it their coveted Silver Award and a final score of 8.5 out of 10!
The N4100PRO is not only fully loaded, but easy-to-use and install: "Installing the drives is straightforward; screw them into the drive caddies and slide the caddies into the chassis. The drives can be locked in place with keys as well, and are hidden behind a swiveling door to keep the front fascia of the N4100PRO nice and neat. Up front is a big and bright character LCD, showing handy bits of information such as IP address and the status of your RAID array. Three USB 2.0 ports are provided; who at the rear and one in front. You get a pair of Gigabit Ethernet ports, which support load balancing and failover."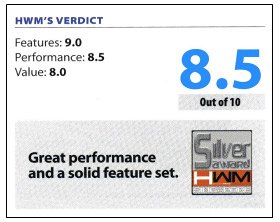 Performance was also very impressive: "Testing was done with a quartet of 1TB Hitachi Deskstar drives. Formatted in RAID 5, that equates to about 2.63TB of useable storage, while formatting in RAID 6 drops the usable capacity to just 1.75TB. In RAID 5, the N4100PRO produced average read and write speeds of 52MB/s and 24MB/s respectively, while going to RAID 6 dropped the numbers slightly to 50MB/s and 21MB/s respectively."
The verdict from HWM Magazine: "Priced at S$799 minus hard drives, the Thecus N4100PRO does quite well for a NAS of its class...there's no reason why the N4100PRO shouldn't be worth considering."
For the full review, check out the August 2009 issue of HWM Singapore Magazine.
For more information on the N4100PRO, check out:
http://www.thecus.com/products_over.php?cid=10&pid=77
---
About Thecus
®
Thecus® Technology Corp. specializes in IP Storage Server solutions, including Network Attached Storage (
NAS
) , DAS, External Storage and Wireless Media
NAS
(Bank ) products. The company was established in 2004 with the mission to make technology as transparent and easy-to-use as possible, and to make products that are not only the best on the market, but are accessible to experts and novices alike. With a best-in-class R&D team highly experienced in storage hardware and Linux software and with a keen customer focus, Thecus® stays close to the market to develop high-quality products to fulfill the storage Server needs of today's world.
For sales inquiries, please contact us via email:
sales@thecus.com
For marketing inquiries, please contact us via email:
marketing@thecus.com