For sales inquiries,
please contact us at:


sales@thecus.com
For marketing inquiries, please contact us at:


marketing@thecus.com
2009-08-24
The three-bay wonder trumps 9 other units, wins Best Buy Award

08/24/2009 – When put to the test, Thecus® NAS units tend to come out on top thanks to strong performance, unique features and overall ease-of-use. The N3200PRO is no different, and when stacked against multiple opponents in DOS/V Magazine's NAS roundup, the three-bay N3200 emerged victorious, snagging their coveted Best Buy Award!
First comes a short introduction of Thecus® and the N3200PRO: "Thecus Technology has been known for its high-performance and reliable NAS systems. In its rich product lineup, there comes a middle-class product targeting home users, called N3200PRO. At glance, not only does the N3200PRO's exterior design make it look much like a PC, but inside the box it is also equipped with rich components. What follows is a high-performance dream come true, with sequential read speed up to 59MB/s and write speed as high as 51MB/s.'"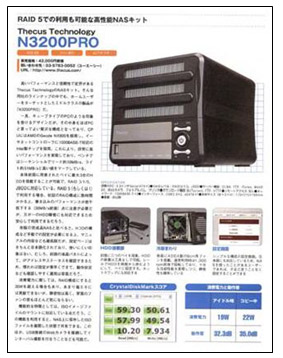 Data is completely protected thanks to multiple RAIS modes: "The N3200PRO can house a maximum of 3 HDDs, with ability to offer RAID 0/1/5, and JBOD....users shall have a peace of mind even in the case of HDD failure."
But the N3200PRO is a lot more than mere storage: "In terms of functional features, the biggest USP (unique selling proposition) has to be that the N3200PRO supports ISO mount. By using this feature, users can share an ISO file that is currently being accessed. In addition, if you have an USB webcam, then you can even do interval shooting with this NAS."
For the full review, check out the September 2009 issue of DOS/V Power Report Magazine.
For more information on the N3200PRO, check out:
http://www.thecus.com/products_over.php?cid=12&pid=89&set_language=english
---
About Thecus
®
Thecus® Technology Corp. specializes in IP Storage Server solutions, including Network Attached Storage (
NAS
) , DAS, External Storage and Wireless Media
NAS
(Bank ) products. The company was established in 2004 with the mission to make technology as transparent and easy-to-use as possible, and to make products that are not only the best on the market, but are accessible to experts and novices alike. With a best-in-class R&D team highly experienced in storage hardware and Linux software and with a keen customer focus, Thecus® stays close to the market to develop high-quality products to fulfill the storage Server needs of today's world.
For sales inquiries, please contact us via email:
sales@thecus.com
For marketing inquiries, please contact us via email:
marketing@thecus.com