For sales inquiries,
please contact us at:


sales@thecus.com
For marketing inquiries, please contact us at:


marketing@thecus.com
2009-08-21
High performance and flexibility wow SNB editors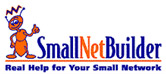 08/21/2009 – In a corporate environment, having reliable access to mission-critical data is paramount, which is why many businesses are turning to the security and power of Thecus® NAS devices. Small Net Builder recently had the chance to put the new Thecus® N5500 to the test, and after running it through a series of trials, found a lot to like.
First off is a short intro to Thecus®' enterprise storage devices: "Thecus has lately been beefing up its "Enterprise" lineup, pushing out seven and eight bay NASes, including seven and eight-bay SAS / SATA models. I looked at the N7700 a few months back and found that it delivered high performance at a relatively low price...This time, I'm looking at the N5500..."
The N5500 comes with Dual DOM security: "The 'Dual DOM' feature that is a major marketing point for the 5500 is at the bottom right of the photo. It's actually two 128 MB IDE Disk on Memory (DOM) boards. The Dual-DOM feature is supposed to automatically switch to the second DOM module in case the first one fails, providing increased reliability."
At its core, the N5500 is a phenomenal storage device with ample storage options: "Like the N7700, the N5500's real value lies in its ability to simultaneously support iSCSI and SMB/NFS/AFP access and create multiple RAID volumes. When you create a volume, you can choose from EXT3, XFS and ZFS formats (you must use ZFS if you want volume snapshots). "
Pros:
Multiple volume support
Simultaneous iSCSI, SMB/NFS/AFP & attached USB access
High performance
Improved, AJAX-based GUI
So how did the N5500 fare? "I think that the 5500 will probably end the N5200 PRO's long reign as Thecus' go-to entry-level "Enterprise" NAS...if you've been a N5200 PRO fan (or even if you haven't) and looking to move up to a faster 5 bay NAS, the N5500 is worth a look, especially if you need multi-volume flexibility."
For the full review, check out:
http://www.smallnetbuilder.com/content/view/30898/75/
For more information on the N5500, check out:
http://www.thecus.com/products_over.php?cid=11&pid=143
---
About Thecus
®
Thecus® Technology Corp. specializes in IP Storage Server solutions, including Network Attached Storage (
NAS
) , DAS, External Storage and Wireless Media
NAS
(Bank ) products. The company was established in 2004 with the mission to make technology as transparent and easy-to-use as possible, and to make products that are not only the best on the market, but are accessible to experts and novices alike. With a best-in-class R&D team highly experienced in storage hardware and Linux software and with a keen customer focus, Thecus® stays close to the market to develop high-quality products to fulfill the storage Server needs of today's world.
For sales inquiries, please contact us via email:
sales@thecus.com
For marketing inquiries, please contact us via email:
marketing@thecus.com