For sales inquiries,
please contact us at:


sales@thecus.com
For marketing inquiries, please contact us at:


marketing@thecus.com
2009-08-19
Small size, low power usage and noise impress 59Hardware editors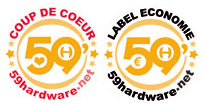 08/19/2009 – The Thecus® N0204 miniNAS offers big storage in a tiny package, making it great for travel. The editors over at 59Hardware recently tested the N0204, and also found out that it is incredibly silent and power-saving. In fact, they liked it so much that they decided to award it two separate awards: "Coup De Coeur" and "Label Economie!"
The N0204 just sips power during usage: "This is one of the big positives expected from this NAS that uses 2.5 inch disk drives - the power consumption! When running, the N0204 and its two hard drives consume only 11 Watts: two times less than the better of two other NAS drives. It is also less than the Plextor, which has one 3.5-inch hard drive...In idle, the N0204 also makes sparks with only 6 watts of power consumption! The lowest were around 20 watts... Power consumption is really a big highlight of the N0204, it is twice as efficient as the least greedy of other 3.5 inch NAS units. Idle results are excellent with only 6 Watts."
For quiet environments, the N0204 really shines: "Noise is also a strong point of the N0204. Indeed, in general, the 2.5-inch hard drives are less noisy than 3.5 inch drives. This is the case here with a noise of 37.5 dB in operation with the fan running. Without the fan noise N0204 down to 36 Db...At around 1 meter the noise is almost unnoticeable and we felt the sound remains at 0.5 or 34 dB above the background noise of the room."
The conclusion from 59Hardware: "While the NAS hard drives to 2.5 inches have appeared for some time is the first time we have been able to test one. The performance on the expected are really there with a big drop in electrical consumption, traffic congestion and noise...As I said before, power consumption is extremely low with only 11 watts in use, it puts the N0204 twice below the TS 219, which is the cheapest NAS with two 3.5 inch hard drives that we have tested. When idle, the N0204 falls to 6 Watts is really little...In the end this N0204 is quite a good product..."
For the full review, check out:
http://www.59hardware.net/dossier/boitier-externes-cle-usb-reseau/test-:-thecus-n0204%2c-le-nas-pour-disques-durs-2.5-pouces-200908068553/0.html.html
For more information on the N0204, check out:
http://www.thecus.com/products_over.php?cid=12&pid=137
---
About Thecus
®
Thecus® Technology Corp. specializes in IP Storage Server solutions, including Network Attached Storage (
NAS
) , DAS, External Storage and Wireless Media
NAS
(Bank ) products. The company was established in 2004 with the mission to make technology as transparent and easy-to-use as possible, and to make products that are not only the best on the market, but are accessible to experts and novices alike. With a best-in-class R&D team highly experienced in storage hardware and Linux software and with a keen customer focus, Thecus® stays close to the market to develop high-quality products to fulfill the storage Server needs of today's world.
For sales inquiries, please contact us via email:
sales@thecus.com
For marketing inquiries, please contact us via email:
marketing@thecus.com