For sales inquiries,
please contact us at:


sales@thecus.com
For marketing inquiries, please contact us at:


marketing@thecus.com
2009-08-11
"The N7700 is one heck of a NAS box"

08/11/2009 – With seven SATA hard drive bays and a slew of impressive features, the N7700 from Thecus® is the ultimate desktop NAS storage device. Hardware authority CNET recently put the N7700 to the test, looking to see if this NAS is all it's cracked up to be. In the end, CNET editors loved it so much, that they decided to bestow the N7700 with their coveted Editor's Choice Award, exclaiming that: "The N7700 is one heck of a NAS box."
CNET editors begin with a short introduction to the N7700: "The N7700 is the biggest Thecus unit you can get before you start hitting racks. It can take seven drives and comes in two flavours — the cheaper N7700 which takes SATA drives, and the more expensive N7700SAS, which as the name suggests, takes SAS drives. The rear features two 120mm fans, a 40mm fan for the power supply, a gigabit WAN and LAN port, a serial port for UPS management, two USB ports and an eSATA port. The N7700 supports certain USB Wi-Fi dongles should you need to access it wirelessly."
The N7700 is top-end NAS server, and its performance was there to match: "Copying across our default 1GB test file over a Netgear GS108T, it peaked at 99.9MBps writes, and 110MBps reads arranged as a seven-drive RAID 5 array using EXT3."
The conclusion: "The N7700 is one heck of a NAS box… If you need something to take seven drives and have nowhere to put a rack mount unit, this should fit the bill nicely."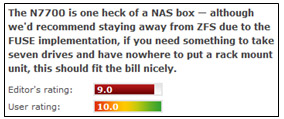 For the full review, check out:
http://www.cnet.com.au/thecus-n7700-339297469.htm
For more information on the N7700, check out:
http://www.thecus.com/products_over.php?cid=11&pid=82
---
About Thecus
®
Thecus® Technology Corp. specializes in IP Storage Server solutions, including Network Attached Storage (
NAS
) , DAS, External Storage and Wireless Media
NAS
(Bank ) products. The company was established in 2004 with the mission to make technology as transparent and easy-to-use as possible, and to make products that are not only the best on the market, but are accessible to experts and novices alike. With a best-in-class R&D team highly experienced in storage hardware and Linux software and with a keen customer focus, Thecus® stays close to the market to develop high-quality products to fulfill the storage Server needs of today's world.
For sales inquiries, please contact us via email:
sales@thecus.com
For marketing inquiries, please contact us via email:
marketing@thecus.com