For sales inquiries,
please contact us at:


sales@thecus.com
For marketing inquiries, please contact us at:


marketing@thecus.com
2009-08-10
Thecus® NAS devices offer undeniable performance and features
08/10/2009 – For years, Thecus® Technology has let the world of NAS storage with superior performance and feature sets. Thecus® offers a full range of digital storage devices suitable for home and office users alike. CNET put together a list of the Top 10 NAS Units, and not surprisingly, two Thecus® units (the N5200PRO and the N7700) made the list.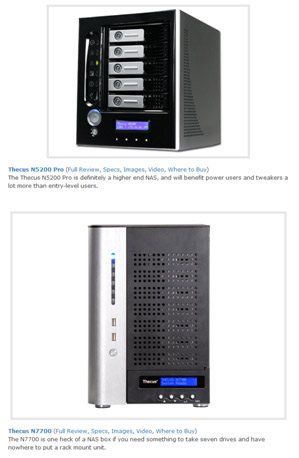 The N5200PRO is a five-bay unit that offers some incredible features and performance, making it a solid choice for both SOHO and Enterprise users. Here is what CNET said about the N5200PRO: "The Thecus N5200PRO is definitely a higher end NAS, and will benefit power users and tweakers a lot more than entry-level users."
For enthusiasts that need that extra oomph, or businesses that require massive storage but don't have room for a full rackmount solution, the N7700 is the perfect choice, and recently won CNET's Editor's Choice Award. Here's what CNET had to say about the N7700: "The N7700 is one heck of a NAS box if you need something to take seven drives and have nowhere to put a rack mount unit."
To see the full feature, go to:
http://www.cnet.com.au/thecus-n7700-339297469.htm
For more information on the N7700, check out:
http://www.thecus.com/products_over.php?cid=11&pid=82
For more information on the N5200PRO, check out:
http://www.thecus.com/products_over.php?cid=11&pid=32
---
About Thecus
®
Thecus® Technology Corp. specializes in IP Storage Server solutions, including Network Attached Storage (
NAS
) , DAS, External Storage and Wireless Media
NAS
(Bank ) products. The company was established in 2004 with the mission to make technology as transparent and easy-to-use as possible, and to make products that are not only the best on the market, but are accessible to experts and novices alike. With a best-in-class R&D team highly experienced in storage hardware and Linux software and with a keen customer focus, Thecus® stays close to the market to develop high-quality products to fulfill the storage Server needs of today's world.
For sales inquiries, please contact us via email:
sales@thecus.com
For marketing inquiries, please contact us via email:
marketing@thecus.com