For sales inquiries,
please contact us at:


sales@thecus.com
For marketing inquiries, please contact us at:


marketing@thecus.com
2009-08-05
"When it comes to value and performance, the N8800 does not have a competitor in sight"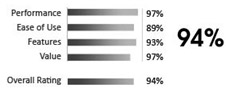 08/05/2009 – When it comes to NAS devices, businesses all too often are forced to choose between high performance and low price. But storage leader Thecus® Technology asks: "Why not have both?" With the N8800 2U Rackmount NAS Storage Server, enterprise users can finally take advantage of a device that offers blazing performance at a very reasonable price point. eAegis recently tested the N8800, and found a lot to like. In fact, they gave the N8800 a whopping 94% overall rating!
eAegis starts off with a short introduction of the N8800: "The N8800 is a rack mount solution as opposed to the desktop form factor of the 7-bay N7700. It was well received by all in sundry including many media publications depicting it as one of the best value for money and performance combinations they had seen that year. Little has changed in 2009 Thecus N8800 still carries the same value for money tag. Features are a plenty and will appeal to both business and professional home enthusiasts."
In business, time is money. Fortunately, the N8800 packs some amazing performance: "The outcome of the Real World Test performance results will provide a tremendous dilemma for those users who value performance as a high priority in the pecking order for selecting a NAS. Thecus N8800 will not disappoint as clearly depicted by the tests...The overall results clearly depict the Thecus N8800 as the fastest NAS we have tested to date. This with a price point that many 4-bays are sold for, means the N8800 now has a combo of value and performance accolades to add to its award list."
The overall conclusion: "The 8-Bay Thecus N8800 scores big in many aspects, and leaves all its competitors in their starting blocks, but when it comes to value and performance the N8800 races away, and does not have a competitor in sight."
For the full review, check out:
http://www.eaegis.com/firstlooks-thecusn8800review.aspx
For more information on the N8800, check out:
http://www.thecus.com/products_over.php?cid=11&pid=94
---
About Thecus
®
Thecus® Technology Corp. specializes in IP Storage Server solutions, including Network Attached Storage (
NAS
) , DAS, External Storage and Wireless Media
NAS
(Bank ) products. The company was established in 2004 with the mission to make technology as transparent and easy-to-use as possible, and to make products that are not only the best on the market, but are accessible to experts and novices alike. With a best-in-class R&D team highly experienced in storage hardware and Linux software and with a keen customer focus, Thecus® stays close to the market to develop high-quality products to fulfill the storage Server needs of today's world.
For sales inquiries, please contact us via email:
sales@thecus.com
For marketing inquiries, please contact us via email:
marketing@thecus.com