For sales inquiries,
please contact us at:


sales@thecus.com
For marketing inquiries, please contact us at:


marketing@thecus.com
2009-08-03
"There is a whole lot to like about the Thecus N7700 NAS Server"

08/03/2009 – The N7700 from Thecus® continues to receive accolades from hardware enthusiasts the world over. Hot Hardware recently put the N7700 on the test bench, and thought it deserved nothing less than their highly coveted Hot Hardware Recommended Award, saying "if its features, performance, and functionality are what you need, the Thecus N7700 is sure to satisfy!"
Look past the sleek styling, and the N7700 is no ordinary NAS: "Inspecting the internal configuration of the Thecus N7700 reveals that this is no ordinary NAS device. Beyond supporting seven internal SATA drives and multiple external drives via eSATA and USB, the Thecus N7700 distances itself from many other NAS servers in its CPU and memory configuration. The motherboard nestled inside the Thecus N7700 is powered by an Intel Celeron M processor which is coupled to 1GB of DDR2 memory. This thing is more like a pared down Linux-based small form factor system than it is a simple NAS interface for SATA hard drives."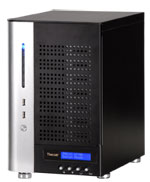 High tech shouldn't mean high difficulty: "Despite the Thecus N7700's relative complexity and powerful hardware configuration, setting it up is actually quite easy, thanks to simple to use drive trays and a well laid-out array of menus in its browser-based configurator."
Access your digital media in record time with the N7700: "The performance of the Thecus N7700 was excellent in every test we ran. In the synthetic benchmark tests, the N7700 hit read and write speeds approaching the theoretical limit of its Gigabit Ethernet connection (~115MB/s write, ~110MB/s read). In the real-world file copy tests, the N7700 didn't quite reach the numbers reported by the synthetic benchmark, but it still put up the best performance we have seen from a NAS server to date."

The conclusion? "...there is a whole lot to like about the Thecus N7700 NAS server. The device offers a myriad of useful features, it is easy to configure even for novices, and performance is top-notch. File transfers are very fast and the device wakes up from standby almost instantaneously… Throughout weeks of testing, experimenting, and just daily use, the Thecus N7700 never faltered--not a single crash, re-boot, or lost or corrupt file. The device instills confidence at every turn. As an aside, the N7700 has actually been up and running in the lab non-stop, glitch free with 41 days uptime, serving multiple systems and a TViX multimedia jukebox--this thing just works...if its features, performance, and functionality are what you need, the Thecus N7700 is sure to satisfy."
For the full review, check out:
http://hothardware.com/Articles/Thecus-N7700-Network-Attached-Storage-Server/
For more information on the N7700, check out:
http://www.thecus.com/products_over.php?cid=11&pid=82
---
About Thecus
®
Thecus® Technology Corp. specializes in IP Storage Server solutions, including Network Attached Storage (
NAS
) , DAS, External Storage and Wireless Media
NAS
(Bank ) products. The company was established in 2004 with the mission to make technology as transparent and easy-to-use as possible, and to make products that are not only the best on the market, but are accessible to experts and novices alike. With a best-in-class R&D team highly experienced in storage hardware and Linux software and with a keen customer focus, Thecus® stays close to the market to develop high-quality products to fulfill the storage Server needs of today's world.
For sales inquiries, please contact us via email:
sales@thecus.com
For marketing inquiries, please contact us via email:
marketing@thecus.com