For sales inquiries,
please contact us at:


sales@thecus.com
For marketing inquiries, please contact us at:


marketing@thecus.com
2006-03-09
The best Thecus storage solution just got better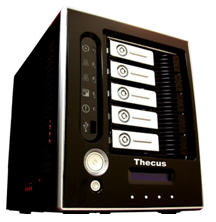 3/9/2006 – Since its introduction, the 4-bay N4100 NAS device from Thecus has been winning numerous recommendations from such renowned media as Hardware Zone, Hexus, and Tom's Hardware Guide. Today, Thecus Technology, a leading provider of digital storage solutions, is proud to announce its big brother: the N5200. With powerful data security features, superb performance, and the same ease-of-use, the N5200 is the ultimate network storage solution.
Despite its small 230mm x 190mm x 230mm dimensions, the N5200 packs a lot of punch. Under the hood lies an Intel® Celeron M processor for powerful data-processing capabilities. The N5200 has the capacity for five 3.5" SATA hard disks for up to 2.5TB of storage! To keep data secure, the N5200 features various RAID modes, including RAID 0, 1, 5, and JBOD. Managing your RAID array is easy with the N5200's built-in RAID management features, including RAID Level Migration, RAID Expansion, RAID Quick Start, auto rebuild, hot swap, hot spare, disk roaming, and more. To backup your data, the N5200 comes with the Thecus Backup Application, as well as a feature called Nsync. With Nsync, users can have the N5200 automatically synchronize files to an external storage device via FTP at a designated time. What's more, if the external device is another N5200, the connection is made via a secure connection. Designed for SMBs to enhance data security, Nsync takes the guesswork out of data backup.
With an intuitive multilingual web-based interface and Windows, Apple OS X, and Linux compatibility, file sharing between networked PCs with the N5200 is more convenient than ever. To ensure speedy data transfers, the N5200 comes with dual Gigabit Ethernet ports and an eSATA connector for future external expansion possibilities. Users have the option of selecting a model with 1 Gigabit Ethernet port and a 4 port Gigabit switch, or even installing a USB 802.11 b/g dongle for Wi-Fi capability. Whichever you choose, the N5200 offers excellent flexibility with multiple connectivity options.
"Powerful, flexible, and secure, the N5200 is a godsend for SMBs looking for an effective way to secure and share their data across a company network," notes Thecus CEO Edwin Lin. "With the N5200, we've once again raised the bar for what people expect from a NAS."
| | |
| --- | --- |
| SKU # | Description |
| N5200 | 2 x Gigabit Ethernet |
| N5200 RouStor | 1 x Gigabit Ethernet, 4 port switch |
For more information on Thecus, go to: http://www.thecus.com/
---
About Thecus

Thecus® Technology Corp. specializes in IP Storage Server solutions. The company was established in 2004 with the mission to make technology as transparent and easy-to-use as possible, and to make products that are not only the best on the market, but are accessible to experts and novices alike. With a best-in-class R&D team highly experienced in storage hardware and software and with a keen customer focus, Thecus® stays close to the market to develop high-quality products to fulfill the storage needs of today's world.
For more information, please visit the Thecus® website at:
http://www.thecus.com
For sales and other inquiries, please contact us via email:
sales@thecus.com