For sales inquiries,
please contact us at:


sales@thecus.com
For marketing inquiries, please contact us at:


marketing@thecus.com
2006-03-06
Small storage solutions to draw big attention at Hannover tech show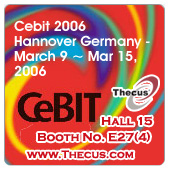 3/6/2006 – CeBIT is world's largest IT-related trade show. Over 6,000+ exhibitors from across the world attend CeBIT to show off their latest wares to over 450,000+ visitors each year. This year, Thecus Technology, leading maker of digital storage solutions, will be there in full force to display and demonstrate its latest storage devices.
With advanced features, large capacity, and total ease-of-use, the N4100 is the ideal network storage appliance for SMBs, SOHOs, and computer enthusiasts who seek a feature-rich and convenient way to archive their most important data. At CeBIT, Thecus will be showcasing a new feature it dubs Nsync. With Nsync, users can have the N4100 automatically upload files to an external server via FTP at a designated time. What's more, if the external device is another N4100, the connection is made via a secure connection. If disaster hits, users can recover their data from the remote server. Designed for SMBs to enhance data security, Nsync takes the guesswork out of data backup.
The easy-to-use digital data archive, the YES Box N2100, has been making the rounds in the hardware community, picking up a number of impressive accolades along the way. At CeBIT, Thecus will introduce new firmware for the versatile storage unit, which brings both P2P and Print Server functionality to the device. What's more, Thecus will release the source code of the N2100's basic modules and architectures, so power users can develop or enhance it with their own applications and features.
As the world's first eSATA on DAS, the N2050 is the ideal storage device for media buffs that have a large media collection, and need to access it in a hurry. With its innovative eSATA interface, large storage space, and attractive styling, the N2050 boasts up to 3Gb/s of data transfer speed – that's six times faster than high-speed USB 2.0! With the N2050 at CeBIT, users can witness now they can access their photos, songs, and files faster than ever before.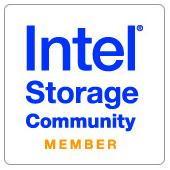 Thecus will also be demonstrating its newly released YES nano N1050 OTG storage device at CeBIT 2006. Despite its diminutive measurements, this pint-sized wonder is a dual function device that enables you to backup your digital devices on-the-go. Imagine never worrying about running out of storage or losing your data while on the road! Featuring on-the-go backup, large storage capacity, and USB 2.0 connectivity, the YES nano N1050 makes a perfect travel companion.
Thecus Technology is a member of the Intel® Storage Community (ISC). Through its membership in the ISC, Thecus Technology has early involvement with new Intel technologies for timely market delivery and joint activities in the strategic development of leading-edge storage solutions.
Visit Thecus Technology at Hall 15, E27(4).
For more information on Thecus, go to: http://www.thecus.com/
---
About Thecus
Thecus® Technology Corp. specializes in IP Storage Server solutions. The company was established in 2004 with the mission to make technology as transparent and easy-to-use as possible, and to make products that are not only the best on the market, but are accessible to experts and novices alike. With a best-in-class R&D team highly experienced in storage hardware and software and with a keen customer focus, Thecus® stays close to the market to develop high-quality products to fulfill the storage needs of today's world.
For more information, please visit the Thecus® website at: http://www.thecus.com/
For sales and other inquiries, please contact us via email: sales@thecus.com