For sales inquiries,
please contact us at:


sales@thecus.com
For marketing inquiries, please contact us at:


marketing@thecus.com
2009-07-15
"Masses of storage, plenty of redundancy and top performance"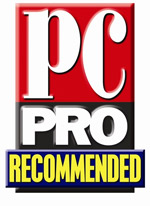 07/15/2009 – Thecus® is constantly changing the NAS landscape. The N8800, a 2U rackmount NAS server, combines massive storage with rock-solid redundancy and blazing performance. Recently, the experts over at PC Pro Magazine took the N8800 into their labs and ran some rigorous tests on it. In the end, they found a lot to like about the N8800, awarding it their PC Pro Recommended Award and a final rating of 5 out of 6 stars!
The N8800 is equipped with a suite of powerful features: "Fault tolerance is good, as along with plenty of RAID array choices you have two hot-plug power supplies, plus Gigabit ports can be linked to load-balanced or failover teams. Power usage is modest, with the appliance rarely drawing more than 140W during testing. The N8800 supports multiple RAID arrays and space can be set aside for iSCSI target creation, with each array supporting up to five virtual volumes within this space... Thecus supports Windows, Linux, Unix and Mac systems, and access security extends to a local user database plus AD authentication. FTP services are available, and installing a free update module turns the appliance into a web server."
Essential for businesses, the N8800 delivers incredible performance: "For testing we used a Dell PowerEdge R610 with dual 2.4GHz E5530 CPUs plus 12GB of DDR3 memory, and loaded with Windows Server 2003 R2 x64. Initial Iometer tests reported raw read and write rates of 107MB/sec and 102MB/sec. Real-world tests were good, with copies of a 2.52GB video clip returning 69MB/sec and 59MB/sec, while FileZilla reported read and write speeds of 89MB/sec and 76MB/sec. IP SAN speeds were also impressive, with Iometer reporting a top raw read rate of 104MB/sec."
The verdict: "The 8TB N8800 scores on a number of counts, as its top value and lightning fast. The myriad multimedia features won't impress businesses, but as a high-capacity rackmount NAS and IP SAN appliance, the N8800 will take a lot of beating."
For the full review, check out the July 2009 issue of PC PRO Magazine.
For more information on the N8800, check out:
http://www.thecus.com/products_over.php?cid=11&pid=94
---
About Thecus
®
Thecus® Technology Corp. specializes in IP Storage Server solutions, including Network Attached Storage (
NAS
) , DAS, External Storage and Wireless Media
NAS
(Bank ) products. The company was established in 2004 with the mission to make technology as transparent and easy-to-use as possible, and to make products that are not only the best on the market, but are accessible to experts and novices alike. With a best-in-class R&D team highly experienced in storage hardware and Linux software and with a keen customer focus, Thecus® stays close to the market to develop high-quality products to fulfill the storage Server needs of today's world.
For sales inquiries, please contact us via email:
sales@thecus.com
For marketing inquiries, please contact us via email:
marketing@thecus.com