For sales inquiries,
please contact us at:


sales@thecus.com
For marketing inquiries, please contact us at:


marketing@thecus.com
2009-07-06
Thecus® Official Website Now Available in Nine Languages
07/06/2009 - Thecus® always makes sure that customers are well informed about the latest news. Via the Thecus® official website, users have access to literally everything they need on Thecus® storage products and the latest technology. The Thecus® website is available in multiple languages to bring the most convenient service in a format that users are most comfortable with.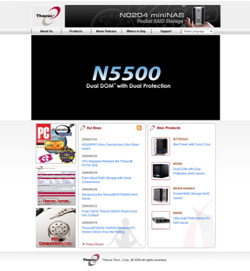 The Thecus® website is available in the following 9 languages:
English

Simplified Chinese

Traditional Chinese

French

German

Italian

Japanese

Korean

Russian
On thecus.com, users can acquire useful information, such as free firmware upgrades, video tutorials, press releases, technical information, and a lot more. Come and check out all the useful content.
Looking forward, Thecus® will continue to enhance its contents on www.thecus.com to bring the most timely information and service to worldwide users.
---
About Thecus
®
Thecus® Technology Corp. specializes in IP Storage Server solutions, including Network Attached Storage (
NAS
) , DAS, External Storage and Wireless Media
NAS
(Bank ) products. The company was established in 2004 with the mission to make technology as transparent and easy-to-use as possible, and to make products that are not only the best on the market, but are accessible to experts and novices alike. With a best-in-class R&D team highly experienced in storage hardware and Linux software and with a keen customer focus, Thecus® stays close to the market to develop high-quality products to fulfill the storage Server needs of today's world.
For sales inquiries, please contact us via email:
sales@thecus.com
For marketing inquiries, please contact us via email:
marketing@thecus.com