For sales inquiries,
please contact us at:


sales@thecus.com
For marketing inquiries, please contact us at:


marketing@thecus.com
2009-06-30
"The N7700 performed flawlessly and offered excellent transfer speeds"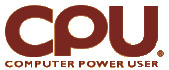 06/30/2009 – When it comes to seven bay NAS units, the N7700 from Thecus® Technology is the king of the hill. Winning praise from technology media and users alike, the N7700 represents a quantum leap in NAS technology. The most recent review comes from the editors of CPU Magazine, who put the N7700 on the test bench and subjected it to a series of tests. In the end, editors were very impressed, saying that "the N7700 performed flawlessly and offered excellent transfer speeds."
The N7700 is packed with some very useful features: "The N7700 sports an impressive list of features, including support for up to 16TB of storage using eight SATA hard drives (seven internal, one external), dual-Gigabit LAN connections, iSCSI, ISO mounting, automated backups, and numerous RAID modes. The N7700 can be used as a Web, photo, and iTunes server, too. In addition to supporting myriad features useful for the home or small office, the N7700 is also easy to set up and configure. And configuration is possible though an intuitive, easy-to-navigate Web-based administration menu. Power and ENTER buttons and a small LCD screen on the front of the device also give users the ability to monitor health status, power down, and restart the N7700."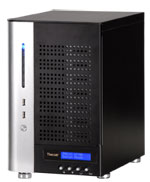 True to Thecus® style, the N7700 delivers wicked performance: "I tested the Thecus N7700 with a variety of hard drive configurations, with up to seven WD 1TB drives working in tandem in various RAID modes. Regardless of the configuration, the N7700 performed flawlessly and offered excellent transfer speeds. Typical transfers from the N7700 to a Core i7 PC, through a D-Link Gigabit switch, ranged from 65 to 75MBps. And transfers to the device hovered between 56 and 64MBps."
The CPU Magazine conclusion: "It is certainly not cheap, but the Thecus N7700 NAS server is priced well in light of competing high-end NAS offerings. It performs well and should offer enough storage capacity for almost any home or small office."
For the full review, check out the August 2009 issue of CPU Magazine.
For more information on the N7700, check out:
http://www.thecus.com/products_over.php?cid=11&pid=82
---
About Thecus
®
Thecus® Technology Corp. specializes in IP Storage Server solutions, including Network Attached Storage (
NAS
) , DAS, External Storage and Wireless Media
NAS
(Bank ) products. The company was established in 2004 with the mission to make technology as transparent and easy-to-use as possible, and to make products that are not only the best on the market, but are accessible to experts and novices alike. With a best-in-class R&D team highly experienced in storage hardware and Linux software and with a keen customer focus, Thecus® stays close to the market to develop high-quality products to fulfill the storage Server needs of today's world.
For sales inquiries, please contact us via email:
sales@thecus.com
For marketing inquiries, please contact us via email:
marketing@thecus.com