For sales inquiries,
please contact us at:


sales@thecus.com
For marketing inquiries, please contact us at:


marketing@thecus.com
2006-02-24
Editors praise multiple storage options and ease-of-use
2/24/2006 – The N4100 is quickly catching the attention of the hardware world with its multiple storage options and advanced system management. The latest review comes from the editors of French magazine Décision Informatique. After extensively testing the four-bay unit, Décision Informatique editors were quite impressed with its storage options and ease-of-use.
Décision Informatique begins by introducing the N4100: "By distributing the Thecus N4100, Morex pursues two goals: to provide a modular NAS unit for smaller organizations and workgroups, and do so with a good level of security and ease-of-use. With this in mind, this mini NAS unit (167 mm x 199 mm x 223mm) accommodates four SATA hard disks (sold separately) that the system can use in RAID 0, 1, 5, or JBOD. With the ability to configure one drive as a backup drive, RAID 5 in particular offers good data security. This NAS unit uses a 600MHz Intel CPU with XScale architecture with carries out the RAID operations. The management of NAS, via the Intel Gigabit etnernet port, is carried out with a French interface."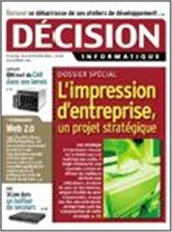 Editors loved the N4100's ease-of-use: "The installation was very simple, as was the administration. One can easily create users with their own division and group, and affiliate certain people with certain rights (read only, no access, etc.) with a password. The system can also be interfaced with Active Directory, allowing the connection of customers' CIFS and SMB…The system is evolutionary, and with the possibility of adding a second Gigabit Ethernet port or a Wi-Fi interface."


For the full review, check out Décision Informatique.

For more information on the YES Box N4100, go to:
http://www.thecus.com/products_over.php?cid=1&pid=2&PHPSESSID=fa4e8a695741396c86f3181b3d72aa07
For more information on Thecus, go to:
http://www.thecus.com/
---
About Thecus
Thecus® Technology Corp. specializes in IP Storage Server solutions. The company was established in 2004 with the mission to make technology as transparent and easy-to-use as possible, and to make products that are not only the best on the market, but are accessible to experts and novices alike. With a best-in-class R&D team highly experienced in storage hardware and software and with a keen customer focus, Thecus® stays close to the market to develop high-quality products to fulfill the storage needs of today's world.
For more information, please visit the Thecus® website at:
http://www.thecus.com/
For sales and other inquiries, please contact us via email:
sales@thecus.com