For sales inquiries,
please contact us at:


sales@thecus.com
For marketing inquiries, please contact us at:


marketing@thecus.com
2005-11-14
Showgoers experience the N4100 and YES Box N2100 first hand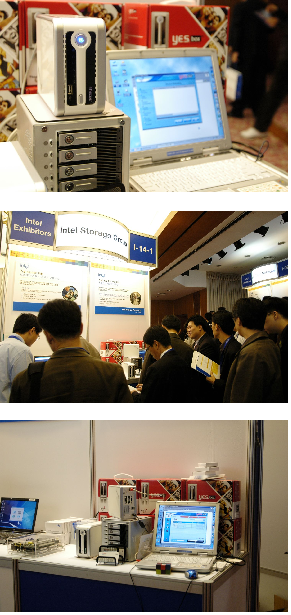 11/14/2005 – On November 3rd, Intel Corporation held their annual Intel Developer Forum in Seoul, Korea. Hundreds of exhibitors and showgoers had the opportunity to get inside the innovations that are redefining markets, reinventing usage models, and recalibrating the everyday experiences of consumers, businesses, and global enterprises. This year, leading maker of storage solutions Thecus Technology was there to display the latest in its storage lineup, including the enterprise class N4100 and the fun and friendly YES Box N2100.
With four SATA drive bays, advanced RAID options, and a 35% power savings, the N4100 NAS Storage Device is ideal for small to medium business to increase their storage is a cost-effective way. An intuitive web-based interface makes the N4100 easy to implement and manage. The two-bay YES Box N2100 offers the ultimate in convenience, with hassle-free setup, and built in FTP and iTunes® server capabilities. Up to 1TB of storage can be installed into the YES Box N2100, which is enough space for 1,000,000 photos and 250,000 songs for the media enthusiast. Both solutions utilize the Intel 80219 Processor, which provides a 64-bit PCI-X interface, a 200MHz internal bus, and Intel XScale® Technology.
For more information on IDF, go to: http://www.idfseoul.com/idf/eng/fall2005/systems/index.htm
For more information on Thecus, go to: http://www.thecus.com/
---
About Thecus
Thecus® Technology Corp. specializes in IP Storage Server solutions. The company was established in 2004 with the mission to make technology as transparent and easy-to-use as possible, and to make products that are not only the best on the market, but are accessible to experts and novices alike. With a best-in-class R&D team highly experienced in storage hardware and software and with a keen customer focus, Thecus® stays close to the market to develop high-quality products to fulfill the storage needs of today's world.
For more information, please visit the Thecus® website at: http://www.thecus.com
For sales and other inquiries, please contact us via email: sales@thecus.com